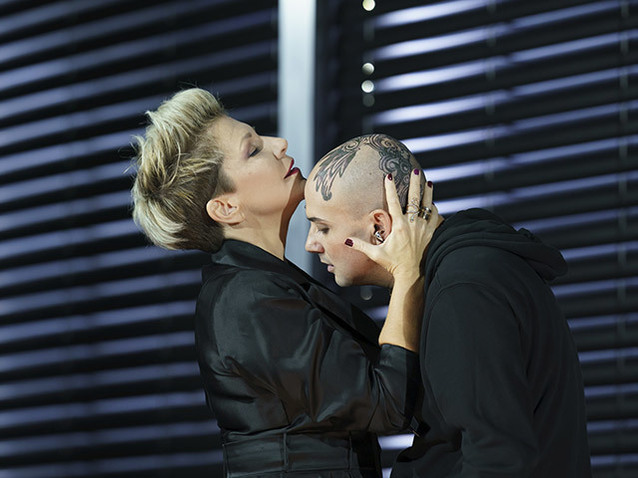 © (C) ROH 2019 Photographed by Bill Cooper
Agrippina of 1709 is the second opera that Handel wrote in Italy, and his first notable operatic success. Set in Ancient Rome, it sees the title character, who is the wife of the Emperor Claudio, take steps to ensure that her son from her first marriage, Nerone, is crowned Emperor when news reaches her that Claudio has been killed at sea. After, however, manipulating the freedmen Pallante and Narciso to hail Nerone as Emperor in front of the Senate, the commander Ottone arrives proclaiming that he actually saved Claudio from drowning. Agrippina is horrified to hear that, in gratitude, Claudio has appointed Ottone Emperor, but when he admits that power means nothing and all he craves is the beautiful Poppea she hatches a plan.
Knowing that Claudio also desires Poppea, Agrippina tells Poppea that Ottone struck a bargain to give her up to Claudio in return for the throne. She also instructs Poppea to tell Claudio that Ottone has ordered her to refuse Claudio's attentions with the aim of making Claudio think twice about making him Emperor. Initially, her plan works and Ottone is branded a traitor, but as the truth dawns on Poppea that he is actually innocent, and Pallante and Narciso realise Agrippina's manipulative ways, it unravels. Nevertheless, she is clever enough to turn things around and convince Claudio that her desire for Nerone to take the throne was to ensure it could be safeguarded for him if he indeed lived. In the end, Claudio declares that Ottone shall rule, and Nerone shall marry Poppea, but when both men are unhappy with this, he simply switches their lots, so that in some ways, although less so in this production, Agrippina gets what she always wanted. The libretto was actually written by Cardinal Vincenzo Grimani and, with it being full of what would have been topical allusions, many believe it reflects his political and diplomatic rivalry with Pope Clement XI.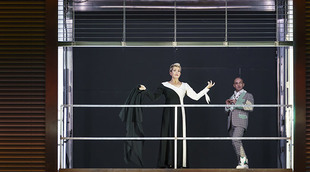 Joyce DiDonato as Agrippina and Franco Fagioli as Nerone in Agrippina
(C) ROH 2019 Photographed by Bill Cooper
This is the first Handel opera to have appeared on the main stage of the Royal Opera House since Tamerlano in 2010. It is directed by Barrie Kosky, and does the two basic things that any staging of a Handel opera needs to, especially when it is in such a large space. First, it allows the performers to dominate the proceedings in their own right so that it is their emotions and interactions that come to the fore, and second it tells the story in such a way that it is very easy to grasp what is going on.
Rebecca Ringst's set consists of a cube, which can revolve and sometimes be broken up, but overall this is not actually a high-tech staging. The set's wheels are deliberately visible, while no effort is made to hide the stage hands who move it around. It is used cleverly so that a set of three adjacent rooms reveal Claudio visiting Poppea while his servant Lesbo keeps watch outside and Agrippina overhears everything, with the way in which they all sneak in and out of doors ensuring that they keep out of each others' sight.
At other times, however, the set is kept firmly in the background so that when Agrippina first wins over Pallante and Narciso she seduces them by pinning each in turn against the proscenium arch. In this way, highly dynamic routines emerge, with Pallante lying at Agrippina's feet, and Narciso stamping and dancing, and these are made all the funnier by the fact that we see almost exactly the same thing happening twice. Alongside the physicality of the performances, however, there is subtlety too. When Ottone first appears, he is in military uniform, but when he removes his commander's hat, he struggles to place the crown on his head as a way of showing how unfit he is for the role. The point is emphasised even more when he dons a suit that is more in keeping with a political role, but looks entirely dishevelled in it.
A few question marks, however, still hang over the staging. Although the costumes, courtesy of Klaus Bruns, and setting seem to be broadly modern day, this production does not so much update the action to current times as make it feel somewhat devoid of context. While this enables the performers to take centre stage in every sense, the lack of a clearly defined setting does not help us to appreciate what power specifically means in this setting, and thus anyone's precise motivations in wishing to obtain it. Similarly, such dynamism is injected from the start that it becomes difficult to sustain it over a lengthy piece without repeating actions and ideas. Nevertheless, the production does well to overcome the associated problems. The 'farcical' elements become more sophisticated after the interval so that one scene that involves many characters hiding is set in a literally dazzling bar, with a strange door bell adding to the humour of the various entrances. The ending here also features the addition of a piece of music from one of Handel's oratorios, which enables us through the performers' silent gestures to focus in on the character of Agrippina, and ask what she has really achieved through all of her machinations.
If the staging is by and large effective, and enables a successful evening to occur, what makes it special is the strength of the music making and overall performances. This production premiered at Munich's Bayerische Staatsoper in July, but the same Agrippina, Nerone, Pallante and conductor also appeared in a concert performance of the work with Il Pomo d'Oro in London's Barbican Hall in May. Although that still saw the performers very much acting their parts, it is interesting to see how they now portray their characters differently to tie in with the concept and infrastructure.
At the Barbican Joyce DiDonato sometimes donned glasses to emphasise her authority, but here the staging enables her to deliver an immensely physical performance in which she can assert her allure and techniques in seduction to an even greater extent. With no vocal height left unscaled, and a myriad of costume changes over the evening, hers is a truly standout performance. When she delivered 'Ogni vento ch'al porto lo spinga' at the Barbican she clapped and flirted with the conductor, but here she goes a step further by sidling up against the proscenium arch and then grabbing a microphone to deliver the most upmarket piece of 'karaoke' anyone is ever likely to hear. However, when she cries 'Grazie London' at the end of the aria it does feel like a repeat of a joke that Kosky inserted when he directed Shostakovich's The Nose here in 2016. Then he introduced a routine of tap dancing noses, with the lead one shouting 'Thank you London' at the end of it.
Franco Fagioli is a brilliant Nerone, with his voice proving so radiant that one imagines (though it can never be more than a guess) that it comes closer than that of most modern day countertenors to the sound produced by the original castrati. His conquest of the technically challenging 'Come nube che fugge dal vento'is also masterly. Lucy Crowe displays a beautiful and agile soprano, as well as some nifty dancing, as Poppea, and Iestyn Davies is a class act as Ottone. Gianluca Buratto asserts a tremendous bass as Claudio while there is excellent support from Andrea Mastroni, Eric Jurenas and José Coca Loza as Pallante, Narciso and Lesbo respectively. The final element that seals the evening, however, is the exceptional conducting and playing emanating from Maxim Emelyanychev and the Orchestra of the Age of Enlightenment.
By Sam Smith
Agrippina | 23 September – 11 October 2019 | Royal Opera House, Covent Garden
Photos (C) ROH 2019 Photographed by Bill Cooper
the 26 of September, 2019
|
Print