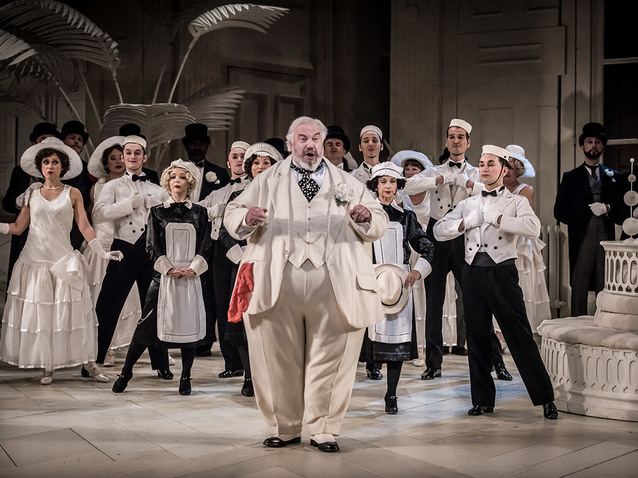 The Mikado, one of Gilbert and Sullivan's most popular works and the subject of Mike Leigh's film Topsy-Turvy, is a farcical operetta that sees all of the residents of the town of Titipu trying to escape execution, including the executioner! First performed in 1885, its nominal Japanese setting is a thin veil for its real commentary on English values, hierarchies and arcane laws and conventions. This being so, director Jonathan Miller decided to do away with any notion of Japan at all by setting the action in a 1920s English hotel.
The best advertisement for his decision is the fact that this English National Opera production has now been running since 1986, with revivals (from Elaine Tyler-Hall on this occasion) frequently occurring. A few key words are altered so that, for example, reference is made to a kiss-curl rather than a pigtail, but ultimately it does not matter that the male chorus sing 'We are gentlemen of Japan' in stereotypical English garb. In Stefanos Lazaridis's sumptuous, and slightly surreal, set classical stucco work appears alongside painted brick in a hotel foyer of sloping floors and strange proportions. Everything is dazzling white, including furnishings such as the piano and gramophone, and chairs and musical instruments appear halfway up the wall.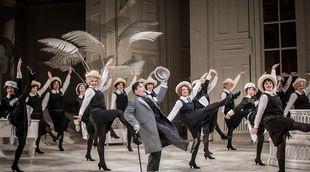 ENO The Mikado 2019, Dancers, ENO Chorus, Kitty Whately, Andrew Shore,
Soraya Mafi, Sioned Gwen Davies, © Genevieve Girling
The dynamism of the production is also aided by the inclusion of twelve dancers dressed as waiters and maids who are always on hand to bring colour to the proceedings. The first problem, however, is that analysing one country by nominally talking about another in itself introduces layers of meaning that Miller's approach automatically strips away, even if more is gained than lost from the innovative setting. Certain details are also flawed, and while many visual jokes follow the grain of the piece, some feel too deliberate and misplaced. For example, the Act II madrigal was purposely written to show off the vocal talents of the leads, and so having another principal wave at them while maids wobble with their linen in the background simply distracts from the beautiful music and performance.
There also seem to be occasions when the principals in their effort to mould their own performances to the set-up do not get the joke across. For example, there is humour in Nanki-Poo who has resolved to kill himself being told that the advantage with a newly proposed plan is that he will have a month to live, but no laughs accompany the line. Similarly, here the character plans his suicide with pills rather than a rope, which makes a mockery of the moment when he says he can 'draw the line'.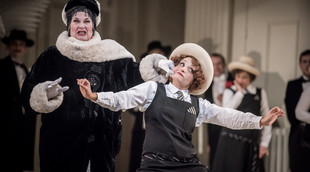 ENO The Mikado 2019, Yvonne Howard, Soraya Mafi, © Genevieve Girling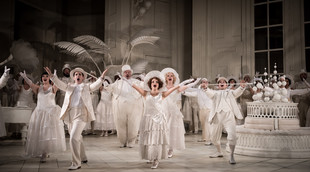 ENO The Mikado 2019, Cast, Sioned Gwen Davies, Elgan Llŷr Thomas,
John Tomlinson, Soraya Mafi, Kitty Whately, Jonathan McGovern,
© Genevieve Girling
This presentation does, however, boast an excellent cast. Richard Suart has played Ko-Ko, the cheap tailor promoted to the rank of Lord High Executioner, in every revival since 1988, and is in his element, whether he is acting the tennis playing twit, billiard shark buffoon or wretched white suited suitor. With so much in the news, his hilarious 'list song', which it is a tradition always to update with contemporary targets, probably faced the challenge of knowing what to leave out. In the event, while most have ensured that they take pot shots equally at the Conservatives, Labour and the Liberal Democrats, the temptation here to devote an entire verse to Boris Johnson, Jacob Rees-Mogg and even John Bercow was clearly too much to resist. Nevertheless, even acknowledging that little should be out of bounds in satire, it is noticeable that the line the 'climate activist' receives a somewhat muted laugh.
Yvonne Howard, who is also extremely experienced in the role of Katisha, is on excellent form, and her scenes with Suart are golden. On this occasion, however, these stalwarts are joined by two further performers who are right at the top of the operatic tree, and have always been particularly fine actors. Andrew Shore imbues Pooh-Bah with the right level of haughtiness from the start as his astutely observed gestures even see him reacting to the crashing brass and percussion in 'Young man, despair'. Sir John Tomlinson takes the stage by storm in the title role, and while most Mikados reveal their sense of power in insisting on executions alongside their supposed benevolence in asking the condemned not to fret at an honest mistake, Tomlinson also displays a sense of sorrow at the thought that his own son has actually been executed. It may seem strange to think that this final element is actually lacking from most portrayals, and Tomlinson also captures something of the Mikado's childish excitement and naivety as he offers up the other soloists in character during the curtain call.
If, however, seeing Suart, Howard, Shore and Tomlinson on stage together in Act II is something special, the younger cast members are equally outstanding. Elgan Llŷr Thomas has a beautifully refined tenor as Nanki-Poo, while Soraya Mafi throws herself completely into the role of Yum-Yum and reveals a radiant sound as she sings 'The sun whose rays are all ablaze'. Jonathan McGovern is good value as Pish-Tush, Sioned Gwen Davies reveals some very pleasing hues to her mezzo-soprano as Pitti-Sing while Kitty Whately is luxury casting as Peep-Bo. In the pit, Chris Hopkins elicits a beautifully sumptuous and balanced sound from the orchestra, with the consequence that, even at over thirty years of age, Jonathan Miller's The Mikado can still make for a joyous and uplifting evening when executed as well as it is here.
By Sam Smith
The Mikado | 28 October – 30 November 2019 | London Coliseum
the 04 of November, 2019
|
Print