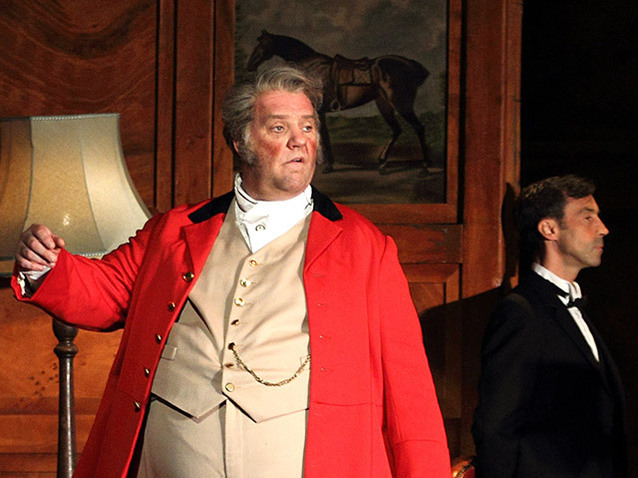 © DR
There are certain operas such as Purcell's Dido and Aeneas and Handel's Radamisto where one will forgive the odd piece of clunky or prosaic direction if the musical credentials underpinning the evening are strong. There are other pieces, however, such as Ravel's L'heure espagnole and Shostakovich's The Nose where, if the staging is not slick from start to finish, the evening is almost wholly undermined. There is actually something unfair about this, because it is not that musically these pieces are any easier to perform. It is simply that some operas demand delivery on all fronts in order to be successful, and Verdi's final opera Falstaff is certainly one of them.  
The work premiered in 1893 as the composer was approaching his eightieth birthday, and the fact it was one of only two comedies he ever wrote (the other being the ill-fated Un giorno di regno) at least hints at the difficulties involved in creating them. It almost requires more skill to write a piece that maintains a cracking pace throughout, and hence sees recitative and aria virtually merge into one, than it does to compose the most soulful, languid or popular operatic tunes. For example, when Verdi tricks us in Act III into thinking we are about to hear a full lovers' duet, only for this to be interrupted before taking flight, he reveals both his wit and his musical talents in making the joke work.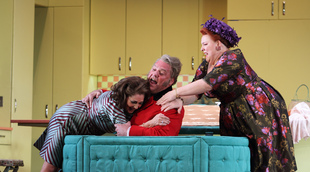 Marie McLaughlin (Meg Page), Bryn Terfel (Sir John Falstaff),
Marie-Nicole Lemieux (Mistress Quickly) ;
© ROH. Photo by Catherine Ashmore
Based on Shakespeare's The Merry Wives of Windsor, the plot sees Sir John Falstaff attempt to seduce Alice Ford and Meg Page when he runs short of money. The women discover that he is chasing them both and decide to play along to teach him a lesson. At the same time, Meg's husband Ford lures Falstaff into his own trap while Ford's daughter Nannetta wishes to escape the planned marriage between her and the ageing Dr Caius because she loves the younger Fenton. The plotting comes to a head at midnight in Windsor Great Park when Falstaff is tormented by the Fairy Queen and spirits – or rather Nannetta and her supporters in disguise! The story, however, has a happy ending when Falstaff accepts he has been tricked, Ford agrees to Nannetta's marriage with Fenton, and the Knight declares that all the world is folly, and all are figures of fun.
The achievement of Verdi and his librettist, Arrigo Boito, was to take this intrinsically English story, and make it feel both appropriately English and Italian. This is something that Robert Carsen's 2012 production, now enjoying its second revival (by Daniel Dooner) at the Royal Opera House, also succeeds in doing by setting the action in the 1950s. Many opera directors warm to this era as the most modern period available that can largely maintain the social hierarchies of the original setting, and for Carsen this period of change in Britain was a 'new Elizabethan age'. In Paul Steinberg's sets, consisting of luxurious walnut panelling rising to the height of the stage, we see British design in action, and yet something that might also pass for mid-century Italian. 
Michael Colvin as Bardolph, Bryn Terfel as Sir John Falstaff,
Craig Colclough as Pistol; © ROH. Photo by Catherine Ashmore
The success of Carsen's staging has always rested on its ability to temper highly dynamic elements with some extremely subtle effects. For example, at the beginning when Dr Caius comes to Falstaff's room to complain that his henchmen, Pistol and Bardolph, robbed him, this is such little cause for alarm to the Knight that he does not even bother to get out of bed. Pistol and Bardolph, however, are seen creeping out from beneath it, and at the end of the scene they exit the room with one somersaulting over the bed and the other going under it. 
When the quartet of women start taking over the Garter Inn's dining room with their singing, the other diners' annoyance is visible for those who care to look. Their reactions, however, are not overdone, which not only means that they do not distract from the main protagonists, but also that they convey a stereotypically English way of dealing with disturbance. In the following scene when Mistress Quickly and then Ford meet with Falstaff, the other men sitting in the Garter Inn's drawing room end up leaving one by one in annoyance.
The hunt for Falstaff in Ford's house sees the chorus truly ransack the kitchen, and embark on a commando-style mission, before the scene reaches its perfectly judged climax. By Act III the audience is laughing before the curtain has risen more than a few feet as they spy the sodden Falstaff lying on the hay and the real horse Rupert, back from the original production having been replaced by Louis for the first revival, resting in his stable. The angles are cleverly set up so that as Rupert chomps on some hay, it actually looks as if he licking Falstaff's portly front.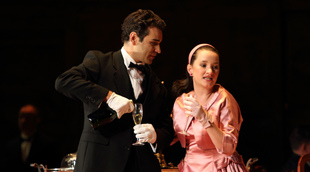 Frédéric Antoun as Fenton, Anna Prohaska as Nannetta ;
© ROH. Photo by Catherine Ashmore
Marie McLaughlin (Meg Page), Ana María Martínez (Alice Ford),
Anna Prohaska (Nannetta) ; © ROH. Photo by Catherine Ashmore
For all of its humour, however, the production does know when to let arias shine in their own right by visually supporting them in subtle ways. For example, Frédéric Antoun as Fenton gives an immensely appealing performance of 'Dal labbro il canto estasiato volasung', as it takes place against the backdrop of two large walls and the infinite cosmos. This represents a rare occasion in the opera house when the dwarfing of a singer with the set increases, rather than diminishes, their presence as it makes Antoun's engaging voice shine even more brightly. Similarly, although there is a touch of mirth in Anna Prohaska as Nannetta's beautiful performance of 'Sul fil d'un soffio etesio' being accompanied by swaying antlered heads, they provide a gentle movement that allows her sweet soprano to penetrate the air.
In the same way, Sir Bryn Terfel as Falstaff gives his Act III monologue such gravitas and monumentality that his railing against the world feels totally serious. This, of course, is the big joke because what he is really complaining about is being crammed in a laundry basket and dumped in the River Thames! This monologue crowns Terfel's achievement in the role, in which he does not always strive for the big laughs, but instead allows the humour to flow naturally from a portrayal that is played, on its own terms at least, straight down the board. This said, he does bring the physical humour to the fore in his encounter with Alice Ford in Act II and when he is tricked in Act III, while his world class bass-baritone is always brought to bear as it reveals an impressive array of nuances and timbres.
Ana María Martínez as Alice Ford, Marie McLaughlin as Meg Page, Michael Colvin as Bardolph, Craig Colclough as Pistol and Carlo Bosi as Dr Caius all play their parts to the full. Special accolades, however, should go to Marie-Nicole Lemieux who throws herself so completely into playing Mistress Quickly as she seductively curls her leg in a curtsey, licks cake mixture off a spoon and hand feeds Falstaff his food. Another standout performance comes from Sir Simon Keenlyside as Ford, whose excellent baritone delivers some of the best singing of the night. The production is handsomely conducted by Nicola Luisotti, while a very tight performance of 'Tutto nel mondo è burla' rounds off the evening in suitable fashion.
By Sam Smith
Falstaff | 7 – 21 July 2018 | Royal Opera House, Covent Garden
the 10 of July, 2018
|
Print