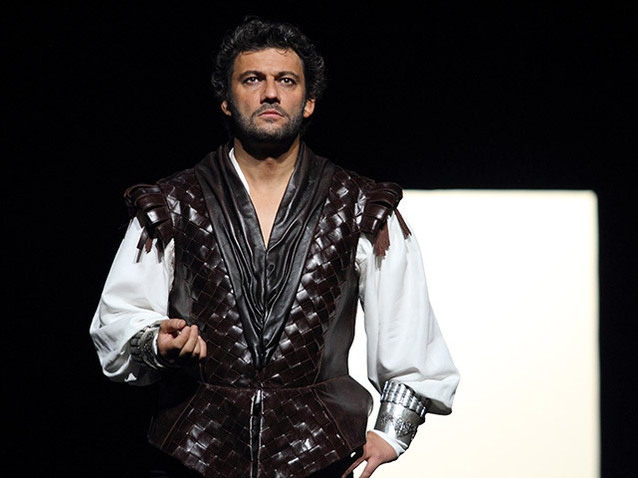 Like the Shakespeare play upon which it is based, Giuseppe Verdi's penultimate opera Otello of 1887 is the story of a general in the Venetian military whose skills in managing political and personal affairs do not match those he has demonstrated in fighting. When his 'friend' Iago feels Otello has sidelined him for promotion, he lays a trap to make Otello believe his wife Desdemona has been unfaithful, and the general falls whole-heartedly for the deception with disastrous consequences.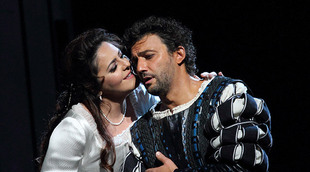 Otello 2017 - Maria Agresta (Desdemona), Jonas Kaufmann (Otello)
(c) Catherine Ashmore
Keith Warner's new production for the Royal Opera features seemingly traditional costumes from Kaspar Glarner, but Boris Kudlička's sets are designed not to aid the opera's context (it is set in Cyprus) so much as its drama and emotion. Sliding diagonal walls condense the performance area so that the large chorus at the start feels just as overwhelming visually as it does vocally, because it is packed into so tight a space. The generally low-lit stage, courtesy of Bruno Poet, contrasts with highly illuminated faces and bodies, thus heightening the sense of tension through the use of chiaroscuro, and alluding to Otello's 'black and white' understanding of matters.
However, because the staging tends to make the action devoid of any specific context (although there are allusions to Moorish architecture and Venetian symbols), it has to move us precisely by generating drama and emotion. Although it creates plenty of the former, it is harder for us to feel as much of the latter. The direction may help us to understand how one powerful man's distrust and stupidity can lead to tragedy and the shaking of an entire society, but it is hard to feel destabilised and sickened as we watch the situation unravel before our eyes. Because we fail to connect with the specific circumstances under which a fifteenth century general would naturally trust his ensign Iago without question, or grasp why it is so terrible for the captain Cassio to become drunk in public (even before he turns violent) because of the threat to military discipline, we fail to get beneath the skin of the central character. This prevents us from feeling much beyond the realm of the purely dramatic for what we see unfold.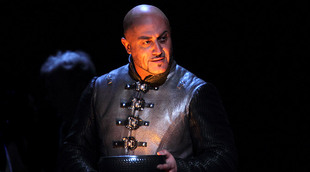 Marco Vratogna (Iago)
Maria Agresta (Desdemona)
The performances as a whole go some way towards compensating for this difficulty by being highly engaging in their own right. Marco Vratogna is a tremendous Iago whose baritone has the right level of thickness to bring out all of the character's scheming and malevolence. His gestures are strong and it is interesting to see how often he stands behind Otello, most noticeably in their duet 'Sì, pel ciel marmoreo giuro' that ends Act II. Thus, as Otello gazes outwards caught up entirely in his own understanding of the truth, Iago stares at him, continually sizing up the man and his weaknesses. Maria Agresta is an excellent Desdemona whose voice combines strength of purpose with immense sweetness and tenderness, especially in 'Piangea cantando nell'erma landa' which opens Act IV.
Jonas Kaufmann makes his role debut as Otello in this production, and displays his outstanding tenor to excellent effect. On opening night, he sometimes seemed to be holding something back, although this did not dilute the impact of his vocal performance. He may indeed have been pacing himself in preparation for 28 June when the opera is to be broadcast live to selected cinemas around the world. This production could, in fact, work well on the big screen as the set's diagonals and lighting should prove very cinematographic.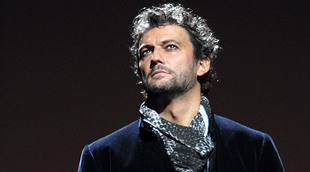 Otello 2017 - Jonas Kaufmann (Otello)
While, however, Kaufmann's singing is strong, his interpretation of the role, while certainly legitimate, has its limits. Kaufmann presents Otello as a sensitive soul who is psychologically shattered by thoughts of Desdemona's infidelity. However, when we witness these character traits alongside Iago's intelligence, cunning and malevolence it is all too easy for Otello simply to come across as stupid. We see none of a general's strength in him, which inclines him to act with certainty and conviction, that would really stir our emotions. This is because a man whose very abilities lead him to have character flaws that result in his own downfall is far more engaging than one who simply seems to act in a fatuous manner. There are exceptions to this rule, and the pathetic state that this Otello ends up in as he finally realises his mistake is moving. It would, however, be even more so to see a lion who was suddenly reduced to being like this as the truth dawned on him, rather than a man whose mind seemed rather weak from the outset.
Sir Antonio Pappano conducts extremely well, while there are strong performances from many in the supporting roles including Frédéric Antoun as Cassio, Kai Rüütel as Emilia and In Sung Sim as Lodovico. Several later performances in the run see Gregory Kunde play Otello, Dorothea Röschmann sing Desdemona and Željko Lučić, Iago.
By Sam Smith
Otello | 21 June – 15 July 2017 | Royal Opera House, Covent Garden
the 23 of June, 2017
|
Print