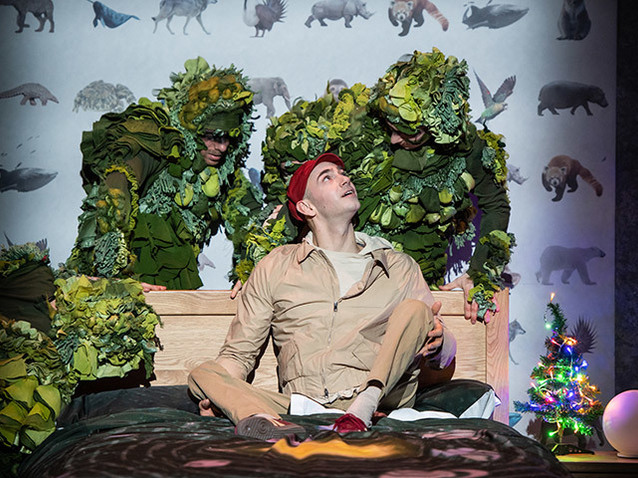 © Photo by Stephen Wright
The Lost Thing represents a collaboration between the Royal Opera, composer Jules Maxwell and Candoco Dance Company and its Artistic Co-Director Ben Wright. It is based on Shaun Tan's eponymous book of 2000, which also spawned an Oscar-winning animation, and sees a boy (Shaun) discover a strange creature on the beach. He finds it impossible to describe it as anything other than The Thing, and since it seems to belong nowhere it is The Lost Thing. When Shaun tries to find a place for it, passers-by do not want to know, and when he takes it home his parents are angry, believing it will spread germs.
Shaun sees an advertisement for the Federal Department of Odds and Ends, but when he takes The Lost Thing there he is asked to fill in a ridiculous number of forms, which make him feel even more lost. A helpful janitor tells Shaun not to leave The Lost Thing there because it is a place for forgetting, and points him towards a better space. It turns out to be a room full of flora and fauna and The Lost Thing seems at home there.
Back in the city, Shaun realises he is starting to forget his adventure with The Lost Thing, so to ensure he remembers he resolves to find the room again. As he sees other people trying to do the same, it dawns on him that nature does not need people, but rather the other way around. Valuing nature will mean we do not feel so lost, and the opera ends with Shaun pressing the doorbell to this important room.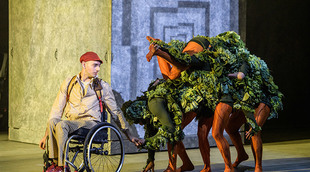 Joel Brown and dancers in The Lost Thing (C) ROH 2019.
Photo by Stephen Wright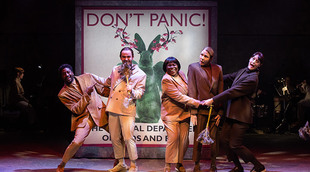 The Lost Thing (C) ROH 2019. Photograph by Stephen Wright
Although the opera, like the book, may seem to be directed at children, there are hidden depths as it distills arguments that lie at the heart of much art. For example, the conflict between nature and society, with the implication that the former is pure and the latter simply nature corrupted, forms the backbone to Wagner's Der Ring des Nibelungen and much Romantic opera and literature. Similarly, although none of the many different musical styles that are employed throughout the score sound especially 'operatic' (even accepting that opera in itself can cover so much), when the father beings to sing to Shaun one cannot help thinking of Erda's 'Weiche, Wotan! weiche!' in Das Rheingold. The opera alludes to a great many things, and the fact that it makes its points within such a seemingly simple, and undoubtedly accessible, piece is all part of its cleverness.
With Candoco being at the forefront of conversation between dance and disability, the performers comprise six singers, eight dancers and five musicians who play on the stage. Shaun is portrayed by Joel Brown who sings from his wheelchair, and in some ways by the other five singers whose white, beige and black costumes reflect the colours in his own. As a rule, when two of them sing in unison with Shaun they represent facets of him, while when all five sing in harmony (and sometimes a capella) they represent another entity. From among their voices the countertenor of Collin Shay and mezzo-soprano of Bethan Langford stand out in particular.
The Lost Thing is played by four dancers who make it seem half animal, half vegetable as in Rike Zöllner's costume eight orange legs are crowned by a huge organic tangle of vegetation. In this way, there are subtle touches for when Shaun's mother insists it cannot stay in the house because she will let nothing come between her and her family it places one of its 'branches' between her and Shaun. In this way, it is revealing that something is coming between them, while suggesting it is the mother's fault that it should.
The stage is quite bare, but the fact that the back wall is coloured in the same way as the floor makes it feel like one all-embracing space. A screen reveals exciting images, courtesy of Douglas O'Connell, of a busy city among other things. At one point we hear the sound of a helicopter taking off before seeing it fly across the sky on the screen. The score, in fact, includes some electronic and pre-recorded sounds, while the surtitles describe all of these alongside the words that are sung, rather as the subtitles for a television programme do.
The Lost Thing is not strictly a Christmas story, although that season features in the plot, but the joy that comes from this heart warming tale undoubtedly makes it ideal for the festive season.
By Sam Smith
The Lost Thing | 7 December 2019 – 4 January 2020 | Linbury Studio, Royal Opera House, Covent Garden
the 16 of December, 2019
|
Print