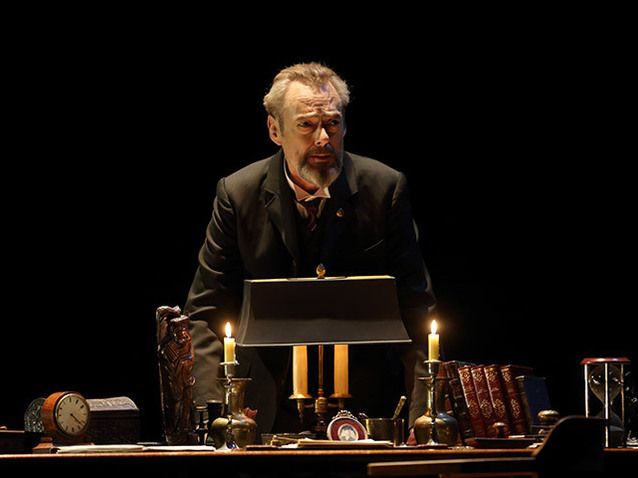 © Catherine Ashmore
Death in Venice of 1973 is Benjamin Britten's final opera. Based on Thomas Mann's eponymous novella of 1912, it tells of a writer Gustav von Aschenbach who becomes obsessed to the point of madness with a youth who he repeatedly sees while in Venice. Given that the pair never speak to each other, it might not feel like obvious dramatic material but it has spawned a classic film (starring Dirk Bogarde) as well as Britten's own masterpiece.
It is possible to see the story as taking place across the realms of nature, society and dream, while the dilemma that von Aschenbach faces as burning passion confronts his deep-held ascetic values introduces themes prevalent in ancient Greek literature, and generates palpable emotional intensity. Given therefore that it is such a multi-layered and psychological work, some may feel that David McVicar's new staging for the Royal Opera, in a co-production with Volksoper Wien, plays everything out too literally. Its ability, however, to render the story in such a straightforward and comprehensible manner is ultimately a plus, while it is impossible to deny that it looks stunning.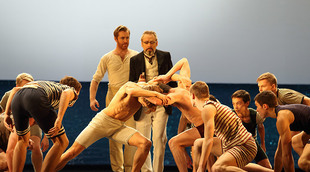 Death in Venice (c) ROH 2019 by Catherine Ashmore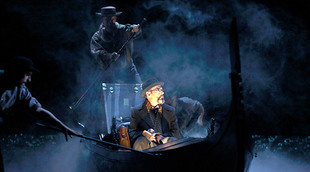 Gerald Finley as the Gondolier and Mark Padmore as Aschenbach, in Death
in Venice (c) ROH 2019 by Catherine Ashmore
If a high level of restraint hangs over the entire evening, this does not prevent the production from containing much variation. The curtain rises on von Aschenbach in his study with the stage filled with no more than a desk and coat stand. With everything else being black, including the backdrop, this allows us to focus entirely on the figure of the writer, and the same technique is employed in several other scenes. All of von Aschenbach's gondola rides take place surrounded by virtually nothing so that Paule Constable's brilliant lighting can illuminate him and the Gondolier, and provide a chiaroscuro effect. Atmosphere is also generated by having two fully costumed and completely visible stage hands sway the boat from side to side so that we gain a sense of its rocking motion as it crosses the Venetian lagoon.
The scenes on the beach feel completely different as they feature a backdrop of sea and sky, and are filled with people who make everything come to life. In this way, they resemble the paintings of John Singer Sargent, with the lighting now bathing everything and everyone in a warm glow. These scenes also feature a lot of physical activity such as running and fighting, with the routines being choreographed to perfection by Lynne Page.
At the start, a series of proscenium arches run the depth of the stage, with their black colour meaning they are hardly visible. There are times throughout the evening, however, when columns are introduced to suggest, for example, the narrow streets of Venice. These can create a very different space so that when von Aschenbach struggles with the air and beggars, the various arches and colonnades highlight the oppressive atmosphere.
The evening is conducted superbly by Richard Farnes who achieves the right balance between attaining clarity and conveying a sense of intrigue. The cast is also superb with Mark Padmore as von Aschenbach unleashing his tenor in a role for which it would seem made. Gerald Finley, who is currently celebrating thirty years of performing with the Royal Opera, asserts his immensely powerful bass-baritone in the multiple roles that the opera requires him to play, while Tim Mead's countertenor is also perfectly suited to the part of Apollo. First Artist of the Royal Ballet Leo Dixon delivers some immensely skilful dancing as the youth Tadzio and, even though he never utters a word, makes it clear just why von Aschenbach should become so obsessed with him.
By Sam Smith
Death in Venice | 21 November – 6 December 2019 | Royal Opera House, Covent Garden
the 25 of November, 2019
|
Print