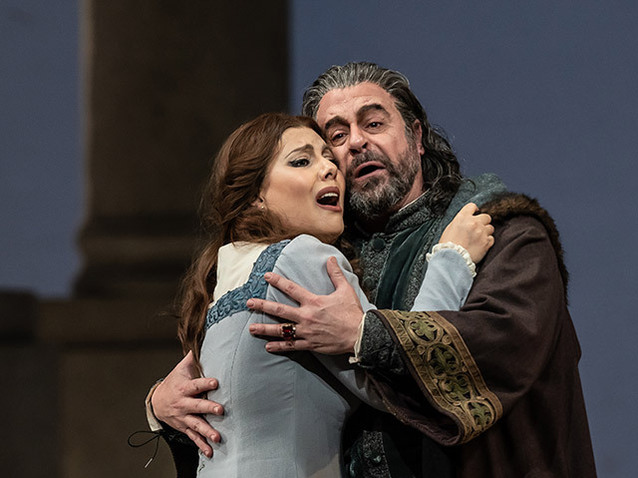 © Clive Barda
Simon Boccanegra, originally of 1857 but revised in 1881, has not traditionally been seen as Verdi's greatest creation. When, however, in 2010 Plácido Domingo took on the title role, his first as a baritone, at the Royal Opera House in Elijah Moshinsky's 1991 production, it injected a new level of interest into the piece. English National Opera got in on the act with a 'film noir' production in 2011, while Moshinsky's version enjoyed a further revival (before this current one) in 2013 with Thomas Hampson playing the eponymous character.
Based on Antonio García Gutiérrez's 1843 play, the plot is one of the most complex to be found in any Verdi opera. It concerns the pirate Simon Boccanegra who was a real life fourteenth century figure and the first Doge of Genoa. Following his successes at sea, he is persuaded by Paolo to stand for election as Doge. He refuses at first, but then agrees when he thinks that the position would enable him to marry the woman he loves, Maria. She has been kept locked away from him by her father Jacopo Fiesco, who is horrified that such a lowborn pirate should have impregnated her. During the Prologue, Maria dies and Fiesco swears vengeance on Boccanegra before saying he will forgive all if Boccanegra gives him his granddaughter. Boccanegra, however, says he cannot because she was kidnapped, and he has no idea where she is, before the scene ends with him being elected Doge.
Act I, set twenty-five years later, sees Amelia Grimaldi and Gabrielle Adorno in love and wishing to marry. Paolo, however, desires Amelia for himself and feels that Boccanegra owes it to him to ensure their union after securing his election. When Boccanegra, however, broaches the idea with Amelia she explains that she is not really Amelia Grimaldi, but rather a lowborn orphan who was substituted for the infant when she died. Boccanegra realises that the Amelia he sees is his daughter, and moves against Paolo marrying her. This angers Paolo who plans Amelia's abduction (which fails), as well as Adorno who sees the love that Boccanegra and Amelia share, and does not appreciate that it is simply fatherly and thus entirely innocent. Following a series of twists and confrontations, the entire truth comes out and the story might have had a happy ending as Boccanegra, Adorno, Amelia and even Fiesco are reconciled. However, Boccanegra has already drunk the water that Paolo poisoned, which leads him to die at the end as Fiesco declares Adorno his successor as Doge.
The thematic parallels with other Verdi works are clear as Les vêpres sicilienne of 1855 might also have seen a happy ending were it not for one character who would not allow it. Similarly, at the end of Don Carlo of 1867 the dead Emperor Charles V rises from his tomb to declare that suffering is the backbone of life, which rather replicates Fiesco's summation of the situation.
Now twenty-seven years old, Moshinsky's production is undoubtedly solid and strong, but it does not always feel that inspiring. Michael Yeargan's set consists of two rows of colonnades, one open and one closed. For the various scenes a back wall is inserted at differing distances from the front of the stage to create a piazza, a garden or the interior of the Doge's palace.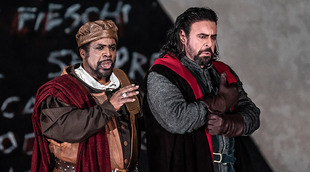 Mark Rucker as Paolo, Carlos Alvarez as Boccanegra (c) ROH 2018 /
Clive Barda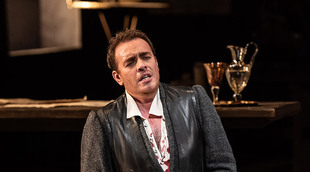 Francesco Meli as Gabriele Adorno (c) ROH 2018 / Clive Barda
There are pleasing touches such as the walls bearing either graffiti or more formal proclamations concerning Boccanegra, which ties in with Fiesco's assertion that the writing is on the wall for the pirate. Similarly, in the scene in Act I in which Boccanegra discovers that Amelia is his daughter John Harrison's lighting subtly alters across it. On the surface, this reflects the day wearing on and the opening of a door, but it also represents the characters' increasing realisation and hence enlightenment. Overall, however, the rows of Doric columns feel a little sterile and frame a vast area that the action does not always prove that capable of filling.
Nevertheless, the difficulty is mitigated by the abilities of the cast who not only deliver some outstanding vocal performances, but on occasions build up real chemistry with each other. First among equals are Carlos Álvarez in the title role, whose baritone combines strength and focus, and Ferruccio Furlanetto as Fiesco who reveals every facet of his outstanding bass instrument with its broad, dark grains. Act III's penultimate scene in which the pair huddle together in a moment of heartfelt, yet sorrowful, reconciliation is particularly moving, and both performers makes us feel for their respective characters. It is ultimately Boccanegra's past that generates his current difficulties, and the way in which Álvarez makes the character seem quite sensitive and fair-minded helps us to appreciate that in office itself he hardly puts a foot wrong.
The gravitas that Furlanetto brings to the role of Fiesco also helps us to enter into the mind of a character who, on his own terms at least, is a long way from being evil. His flaw is his failure to embrace a changing world, which prevents him from accepting a pirate either as a member of his elevated family or as a ruler. He does, however, reject the invitation to murder Boccanegra, even when doing so would secure his release from prison, and maintains that the Doge does not deserve his ultimate fate. 
Hrachuhi Bassenz is brilliant as Amelia, revealing a highly intriguing and appealing tone in 'Come in quest'ora bruna'. As Adorno, Francesco Meli's ringing tenor is outstanding in its expansiveness while, as Paolo and Pietro respectively, Mark Rucker and Simon Shibambu also give impeccable performances. In the pit, Henrik Nánási creates some quite dark and brooding sounds on occasions, although it is the sensitivity of the playing that really comes across as Boccanegra dies among the strings.
By Sam Smith
Simon Boccanegra | 15 November – 10 December 2018 | Royal Opera House, Covent Garden
the 18 of November, 2018
|
Print