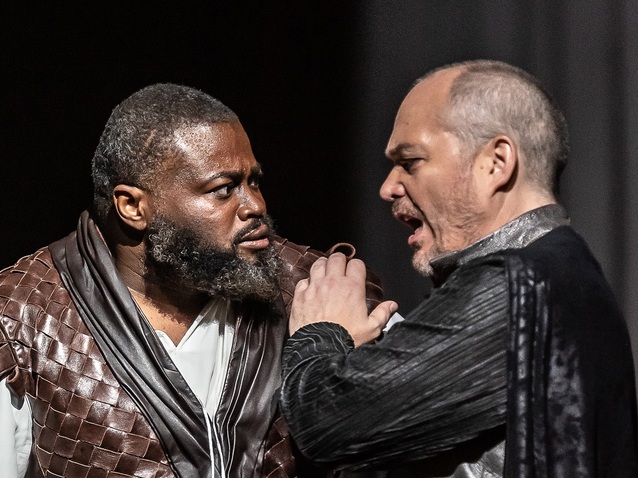 Russell Thomas (Otello), Christopher Maltman (Iago), The Royal Opera © 2022 ROH Ph by Clive Barda
Like the Shakespeare play upon which it is based, Giuseppe Verdi's penultimate opera Otello of 1887, with a libretto by Arrigo Boito, is the story of a general in the Venetian military whose skills in managing political and personal affairs do not match those he has demonstrated in fighting. When his ensign Iago feels Otello has sidelined him for promotion, he lays a trap to make Otello believe his wife Desdemona has been unfaithful, and the general falls whole-heartedly for the deception with devastating consequences.
Keith Warner's 2017 production for the Royal Opera features seemingly traditional costumes from Kaspar Glarner, but Boris Kudlička's sets are designed not to depict Cyprus where the drama is set literally, but to aid the drama and emotion. Sliding black diagonal walls condense the performance area so that the large chorus at the start feels just as overwhelming visually as it does vocally, because it is packed into so tight a space. The generally low-lit stage, courtesy of Bruno Poet, contrasts with highly illuminated faces and bodies, thus heightening the sense of tension through the use of chiaroscuro, and alluding to Otello's 'black and white' understanding of matters.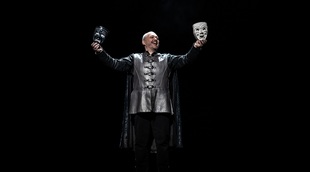 Christopher Maltman (Iago) The Royal Opera © 2022 ROH Ph by Clive Barda
The fact that the staging tends to make the action feel devoid of any specific context (although there are allusions to Moorish architecture and Venetian symbols) has been a problem in the past. It may be good at generating drama, but because we do not really feel as if we are in the fifteenth century, it becomes harder to connect with the specific circumstances under which a general from the period would naturally trust his ensign without question, or grasp why it is so terrible for the captain Cassio to become drunk in public (even before he turns violent) because of the threat this poses to military discipline. In this revival from Isabelle Kettle, however, the direction and performances feel so strong that we cannot fail to be disturbed by the manner in which one powerful man's distrust and stupidity lead to tragedy and the shaking of an entire society. This is interesting in its own right because, although many of the specific actions are the same as in previous revivals, a combination of factors ensure that they hit the mark as never before.
The performance that is more responsible than any other for making this revival stand out is Christopher Maltman's as Iago. It is not simply the strength of his full, broad and aesthetically pleasing baritone that makes it so powerful, but the way in which his scheming and malevolence are brought out through such acutely observed expressions and gestures. The curtain rises at the start on Iago brandishing two theatrical masks before casting the comic one aside and retaining the tragic one. This is interesting because that action suggests that he chooses to pursue the path of evil, yet his Act II aria 'Credo in un Dio crudel' would imply he is predisposed to believe in a cruel God. Thus it makes sense to see him cast the second mask aside here to reveal that there really is no choice for him at all, and how there are now no theatrics but only evil pure and simple. During Iago and Otello's duet 'Sì, pel ciel marmoreo giuro' that ends Act II, Iago stands just behind his adversary. Thus, as Otello gazes outwards caught up entirely in his own understanding of the truth, Iago stares at him, continually sizing up the man and his weaknesses. In fact, when he places his hand on Otello's right shoulder it feels as if he is controlling Otello's arm without the general even realising.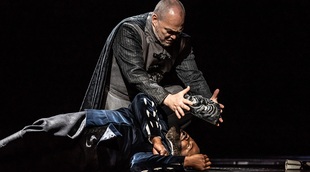 Christopher Maltman (Iago), Russell Thomas (Otello), The Royal Opera © 2022 ROH Ph by Clive Barda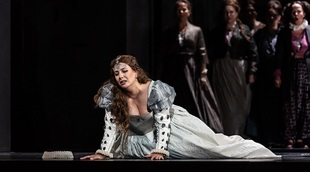 Hrachuhí Bassénz (Desdemona) The Royal Opera © 2022 ROH Photo by Clive Barda
The attention to detail helps to generate atmosphere in abundance. In the scene in which Iago obtains Desdemona's handkerchief we can see how he eyes her and Otello up from afar. As soon as the handkerchief is on the ground, however, Iago's attention turns entirely to getting hold of it himself, and one feels the change in his intention and hence the dynamics of the scene in every way. There are also excellent touches so that after Otello discards Desdemona's handkerchief she goes to pick it up before thinking it is more important to enquire as to how her husband is than to worry about this seemingly trivial object. She was literally a second away from retrieving it, which makes us think just how differently things might have turned out if she had.
Russell Thomas is suitably authoritative as Otello as his expansive tenor rings out across the house. A few lines in his upper register are not as strong as they could be, and his transformation from his public to his private persona in 'Già nella notte densa s'estingue ogni clamor' does not feel quite as complete or convincing as it might. Nevertheless, this is still a superb performance from Thomas, the first black artist to play Otello at the Royal Opera House, as he gets the fundamentals of the character exactly right. The whole point of the general is that the traits that have served him so well in battle, namely courage, quick decision-making and unswerving belief, prove ill suited to managing domestic relationships. Thomas offers us this thoroughly commanding figure, and that is precisely what is needed because it is only moving to see a man defeated by himself if we can appreciate what a bold lion he is in the first place.
Hrachuhí Bassénz is an extremely compelling Desdemona as she shows how she wishes to be loyal to Otello because she is genuinely faithful, but also how she finds it hard to be loving in the way she wants to be when he behaves in such a brutal manner. Her soprano proves to be as sensitive as it is secure, and her performance of 'Piangea cantando nell'erma landa' is particularly moving. Piotr Buszewski, Andrés Presno and Blaise Malaba are highly effective as Cassio, Roderigo and Montano respectively while Monika-Evelin Liiv as Emilia and Alexander Köpeczi as Ludovico both display immensely stirring voices. In the pit, Daniele Rustioni's conducting is rousing, accomplished and highly assured, and is the final ingredient in ensuring that the second revival of Warner's Otello is a particularly persuasive one. 
By Sam Smith
Otello | 12 - 24 July 2022 | Royal Opera House, Covent Garden
the 14 of July, 2022
|
Print