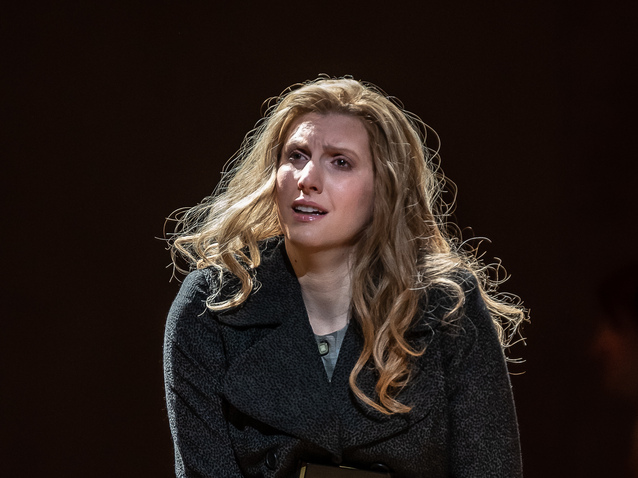 © (c) Clive Barda
Katya Kabanova is often regarded as Leoš Janáček's first 'mature' opera, despite the fact that he was 67 when it premiered in 1921. The libretto is by Vincenc Červinka, while the work is based on Alexander Ostrovsky's play The Storm, but there can still be little doubt that the opera, and particularly its lead character, were inspired by the composer's feelings for the far younger Kamila Stösslová.
Set in the Russian town of Kalinov by the Volga in the 1860s, it tells of one woman's dreams of escape from her mundane and repressive life. Katya is married to Tichon, who seems to be more interested in drink than her, and is constantly subjected to the controlling attempts of his domineering mother, Kabanicha. She meanwhile is secretly in love with Boris Grigorjevič, the nephew of the merchant Dikoj. One day, when Tichon is away on business, she is told where the key to the far part of the garden is by the Kabanovs' ward Varvara, and uses it to meet Boris there while Varvara sees her own lover Vána Kudrjáš.
She subsequently confesses what she has done to Tichon in front of the whole community, and when she discovers that Boris is being sent away, she descends further into insanity and drowns herself in the Volga. Her body is retrieved but while Tichon cries over it, Kabanicha, showing absolutely no emotion, merely thanks the bystanders for their help.
The Royal Opera is currently presenting new productions of Janáček's operas at the rate of one a season, with his final opera From the House of the Dead appearing last March. Katya Kabanova is directed by Richard Jones who moves the action forward to the 1970s. This works because the way of life feels simpler, and hence markedly different, to our own today, and yet close enough still that we can actually relate to the mentality of a small community where everyone knows everyone else's business.
In this way, strong attention is paid both to Katya's internal state of mind and the community that surrounds her as the Overture sees her sitting alone on a bench gazing outwards, only with people directly behind her. It is clever because it shows how much she wants to be 'alone' in a situation where it is impossible to be, but without making the movement so excessive as to distract from the enigmatic score, which on its own tells us so much. Then, throughout the opera we see men fishing and people going about their business as Katya finds herself unable to escape their gaze.
When scenes occur inside the Kabanova house a low wall containing a bay window is pushed towards the front of the stage, thus emphasising the claustrophobic nature of the set-up. In contrast, at the end of Act II when Varvara sees Vána Kudrjáš, and Katya meets Boris, the space is wide open. At the end of the scene, however, in a very effective moment the front wall of the house advances once more to reveal how Katya must leave her beautiful 'dream' world and return to reality.
The walls of Antony McDonald's set look like plywood, and when these are in place at both the sides and back of the stage they can make the action seem not so much updated as devoid of context. For example, feeling Vána Kudrjáš's sense of wonder at the views of the Volga at the start is harder when he is simply standing in a sterile box-like area. More generally, the absence of a river, or more importantly anything that alludes to water, can blunt how we feel at key moments since so much of the opera's language is tied up with the imagery of water and nature. For example, before Katya throws herself in the river she expresses how nature will continue to flourish over her grave, but there seems to be a mismatch between her words and the barren area we see before us. There are still many deeply affecting moments, such as the sight of Tichon vainly trying to revive Katya's limp body as it spews water, while Kabanicha adopts a far more clinical approach to her death, but one wonders how much more powerful again the staging might be were it not undermined by certain factors.
Despite having previously been Music Director of English National Opera for nearly a decade, this is Edward Gardner's first time conducting on the main stage at the Royal Opera House. He elicits extremely beautiful playing from the orchestra, particularly in the strings, and he makes the sound feel rather more 'Romantic' than many conductors achieve with Janáček, which is certainly no bad thing.
On her Royal Opera debut, Amanda Majeski is exceptional in the title role as her voice possesses an underlying strength that enables it to achieve quite remarkable things in all registers as she uses it, and her eyes, to highlight the character's desperation, sense of wonder and affinity with nature. While, however, it is tempting to say that she steals the show, the rest of the cast is also very good. Pavel Černoch brings a highly pleasing and well-shaped tenor to the role of Boris, while Clive Bayley is a class act as Dikoj. There is also excellent interaction between Vána Kudrjáš, who Andrew Tortise makes every inch a 'wise man' of his time, and Varvara, who Emily Edmonds fills with youthful vivaciousness.
Andrew Staples sings Tichon very well, and cleverly makes him feel not so bad a person, which places the blame for all that happens far more squarely on Kabanicha because we suspect that the 'indifference' he shows towards Katya derives from having been so downtrodden himself over the years. When we see Kabanicha played by the splendid Susan Bickley, who makes her every inch the formidable figure that she should be, we can well believe that this is the case!
By Sam Smith
Katya Kabanova | 4 – 26 February 2019 | Royal Opera House, Covent Garden
the 06 of February, 2019
|
Print