Francesco Cilea is one of several Italian composers who might have been far better known today had they not lived at around the same time as Giacomo Puccini. As it is, their own considerable talents have tended to be eclipsed by those of the great composer to the extent that the only operas of Cilea's that are performed with any regularity today are L'arlesiana and Adriana Lecouvreur. The latter was also the only one of the composer's that was unequivocally acclaimed as a success on its premiere in 1902.
Set in Paris in 1730, the complicated plot concerns various love triangles (or even quadrangles) that revolve around Maurizio, Count of Saxony, and the acclaimed actress Adriana Lecouvreur. Adriana herself is loved by the stage manager of the Comédie-Française, Michonnet, but she desires Maurizio who has divided his affections between her and the Princesse de Bouillon. He has grown weary of the powerful Princesse, but feels compelled to meet her for political reasons. When their private liaison is in danger of being discovered, however, Maurizio enlists the help of Adriana to help the Princesse escape unseen. Adriana agrees, but in the process both women discover that the other also loves Maurizio. This sets off a rivalry between the two that is to have fatal consequences for Adriana.
Just as important as the plot, however, are the characters themselves. Adriana's talents as an actress give her a unique insight into the human condition. She may be a star who is used to enjoying crowds and putting on a public face, but she is also a sensitive and empathetic character who has her own needs, even as she shows herself willing to keep promises and help others. The Princesse similarly has a public persona and private needs, but her higher social rank has led her to develop far greater levels of expectancy and assertiveness.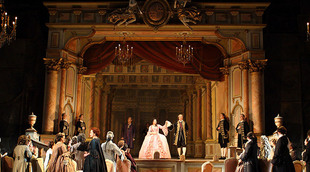 Adriana Lecouvreur (c) Catherine Ashmore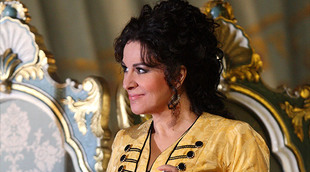 Angela Gheorghiu - Adriana Lecouvreur (c) Catherine Ashmore
David McVicar's production originally appeared at the Royal Opera House in 2010, and this is its first revival (by Justin Way). The staging is simple yet effective so that it carries the magic of the theatre as it contrasts public and private spaces, but never feels weighed down by superfluous detail. The first act takes place at the Comédie-Française and Charles Edwards' set, which consists of a raised cube-like frame, presents a stage within a stage. As it revolves, it enables us to see what is happening both onstage as Adriana and others perform, and off it as actors gaze upon the action as they wait in the wings.
The sturdily built structure carries a certain air of glamour, though not necessarily luxury. In direct contrast, the backstage area where Michonnet is hassled by every actor consists of just a few simple props (although Adriana's private dressing room is more substantial). In this way the glory and toil associated with theatre are brought into sharp contrast. The open nature of the stage, however, shows how quickly and easily it is to move from the public to the private domain, revealing how close and yet so far the two realms are from each other.
A stage is, in fact, seen in every set as Act III takes place at the Prince de Bouillon's palace. Performances would have been an integral part of the parties held there, but the decision here to present such a large and formal stage reveals the emphasis that McVicar places on the notion. It makes Adriana's performance from Racine's Phèdre, which she is invited to give, all the more dramatic, and provides an excellent space for the dancers who play out a ballet on the Judgement of Paris to perform in. Even the private space of Mlle Duclos' villa in Act II alludes to the theatre, and hence the blurred distinction between public and private space, because the set resembles half of a proscenium arch. Act IV, which is set in Adriana's house, also sees the return of Act I's stage structure.
The soloists for this first revival are, by and large, extremely strong. Angela Gheorghiu played the title role on the production's premiere and now returns for what will (on 27 February) be her 150th appearance for the Royal Opera (Hrachuhí Bassénz plays Adriana for two later performances). Her sound is focused and precise, yet still proves capable of possessing a dreamy quality. Sometimes a little more volume would be welcome, but the way in which her voice contrasts with that of Ksenia Dudnikova as the Princesse de Bouillon, whose strong and assertive mezzo-soprano is a joy to behold, helps to mark out their differing characters.
Brian Jagde is on top form as Maurizio, revealing both expansiveness and control in his wonderful tenor sound. Gerald Finley is also splendid, both vocally and dramatically, as Michonnet and it will be interesting to see how Alessandro Corbelli tackles the same role for two performances in the run. While Finley reveals world weariness tinged with a little humour, one suspects that Corbelli, a master of such roles as Dr Bartolo (Il barbiere di Siviglia) and Don Pasquale, may display humour tinged with a little world weariness. In the pit conductor Daniel Oren achieves high levels of focus and balance, while Act III's ballet is rendered extremely effectively by its nine dancers.
By Sam Smith
Adriana Lecouvreur | 7 February – 2 March 2017 | Royal Opera House, Covent Garden
the 12 of February, 2017
|
Print