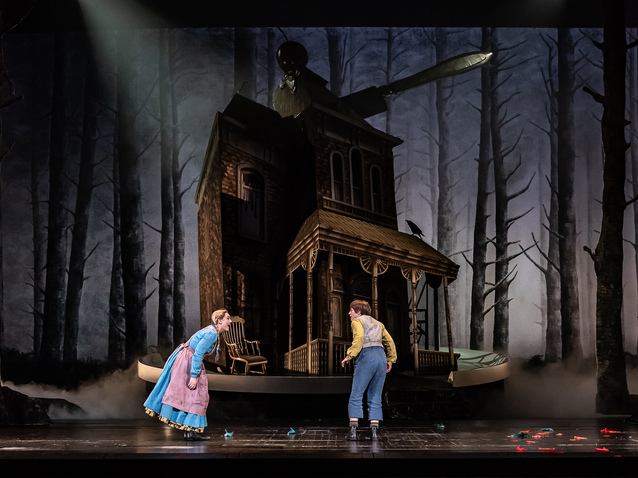 Engelbert Humperdinck's Hänsel und Gretel, which premiered in 1893, is based on the eponymous fairytale that was recorded by the Brothers Grimm and published in 1812. It follows the Grimm version of the story reasonably closely, although there are a few notable differences including the fact that the mother here is not intent on losing the children in the forest so that she and her husband might survive the hard times. She sends them there to collect berries as a punishment for misbehaving, and because she needs the food, but is as horrified as anyone when she realises that a Witch lives there who could entice and eat them.
The opera last appeared at the Royal Opera House in 2008 and 2010 in a production by Patrice Caurier and Moshe Leiser (until then it had not been seen at Covent Garden since 1937). The set for that version was quite Expressionistic, but this new one by Antony McDonald, which represents a co-production with San Francisco Opera, has a more realistic and homely quality. The stage curtain presents an idyllic view of the Alps within whose landscape Hänsel and Gretel's small timbered cottage resides. Everything both inside and outside the dwelling suggests a rustic and traditional way of life, although the setting cannot be so long ago as the sink features taps with running water.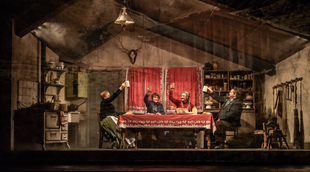 Michaela Schuster as Gertrud, Hanna Hipp as Hansel, Jennifer Davis as
Gretel, James Rutherford as Peter (C) ROH, 2018 / Clive Barda
The action begins before anyone has even sung a note as during the Overture the front curtain becomes transparent to reveal a prosperous Hänsel and Gretel happily enjoying good food and wine with their mother Gertrud and father Peter. Then we cut to a second scene where the food is more scarce, and a third where there is none. This suggests that the family has not lived in poverty forever, but only recently fallen on hard times, which both ties in with the Brothers Grimm tale, and implies that the subsequent behaviour of Gertrud is a response to a situation she is unused to being in.
In fact, one of the great strengths of Act I is the way in which the family relationships are rendered. Michaela Schuster reveals how Gertrud scolds Hänsel and Gretel for doing no work, not because she does not understand that children will be children, but because she sees it as a part of her responsibility to bring them up well. When she does, however, become angry, it is as a result of desperation at having no food, and she soon regrets it. However, even when she sends them out to find berries it derives as much from the need to have food as it does from any requirement to punish them. Similarly, when we hear Peter (Eddie Wade replacing an indisposed James Rutherford on opening night) singing 'Ra-la-la-la, ra-la-la-la' we realise that he is not merely a happy-go-lucky character, oblivious to the struggles that his wife must endure to keep the house together. Rather, he is someone who has had to learn to embrace optimism in order to see himself through such difficult times.
There are also a host of excellent touches so that the smoke coming out of the chimney, which is the result of something cooking in the oven, reaches its zenith when Peter describes the evil Witch. Act II is the most magical, however, where in the forest we see huge insects scale the proscenium arch and characters from Brothers Grimm and other fairytales appear between the trees. The Traumpantomime, which normally sees fourteen angels gather around Hänsel and Gretel to protect them as they sleep, sees all of the fairytale characters take on this role. With them being played by actors and dancers, the Wolf chases Little Red Riding Hood, Prince Charming searches for Cinderella, Rapunzel's hair is cut and Snow White is just prevented from eating the poisoned apple before they all form a tableau around the children with a storybook. Special mention should also be made of Haegee Lee who gives a brilliant performance as the Sandman, as does Christina Gansch as the Dew Fairy at the start of the following act.
Act III makes the Witch's gingerbread cottage look exactly like the house in Hitchcock's Psycho, complete with 'quarter wheels' at the top of its narrow exterior columns. This is particularly interesting because at the moment in the courtyard of the Royal Academy of Arts there is also a replica of the house, entitled Transitional Object: PsychoBarn, made out of a real American red barn by Cornelia Parker. In both cases, one only has to see the back of it to realise that it is simply a facade. In this instance, the structure has a huge knife sticking out of the top for cutting cake or flesh, while the windows drip with either blood or cherry sauce. The point is that the truth about this place is quite clear, but that people, and the children in particular, are all too good at seeing simply what they want to see.
The Witch can be played by either a man or a woman and here the part is taken by Gerhard Siegel, a true Wagnerian who has played the part of Mime in Der Ring des Nibelungen literally hundreds of times. He is brilliant vocally, and ironically this part may give him more opportunity to assert his full voice as any portrayal of Mime requires the application of at least a slightly pinched tone to assert the character of the Nibelung. Siegel also indulges in what looks like a burlesque act, only it ends with the Witch bald and in a chocolate (or even blood) splattered white coat. This is clever because it reveals how the Witch stripped down to her very essence is pure evil.
The highest accolades, however, should go to the pair who are on stage for the vast majority of the evening, namely Hanna Hipp as Hänsel and Jennifer Davis as Gretel. Both enter completely into the spirit of playing the children, with Hipp revealing extremely well observed boyish mannerisms, and Davis brimming with 'girlish glee'. Both execute some effective steps in 'Mit den Füßchen, tapp tapp tapp', while Hipp's mezzo-soprano also works well with Davis's soprano to delineate the different genders. By the time we have added in Sebastian Weigle's excellent conducting on his Royal Opera debut, and an outstanding contribution from the ROH Youth Opera Company who play the children released from the Witch's spell, there is really nothing in this production not to like.
By Sam Smith
Hänsel und Gretel | 13 – 29 December 2018 | Royal Opera House, Covent Garden
the 16 of December, 2018
|
Print