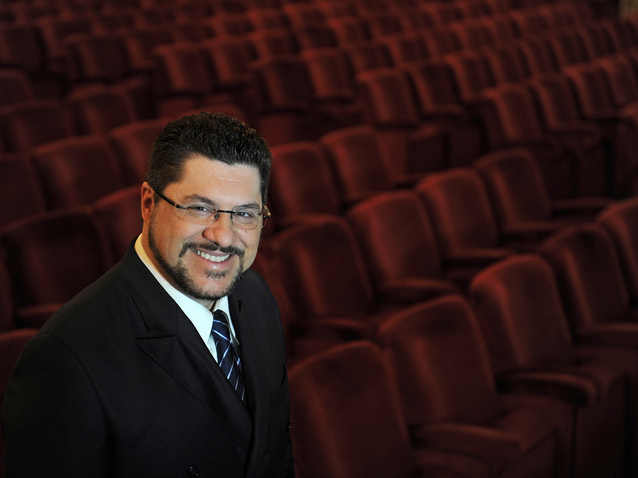 Luca Salsi has a special way with words. His Macbeth sends shivers down the spine; his noble Giorgio Germonts fills you with warmth. Such portrayals works so well because Salsi can craft colour, nuance and meaning into a line like few others today. How fitting, then, that Salsi should provide a La Scala recital programme that read like a homage to Italian verse. In doing so, Salsi confirmed himself the foremost wordsmith of the opera world.

On the world's largest opera stages the towering Luca Salsi dominates. But here at La Scala he toned things down, reducing the stage's vast dimensions by drawing the listener in. We might as well have been sitting in Salsi's living room, so comfortably at home did he appear. Salsi would sometimes take a couple of steps forward to engage more directly, and communication was always at a maximum, the baritone more often fixing his gaze on the loggioni than glancing at his score.

Death was a key theme from the off, with three successive settings of Giuseppe Carpani's text "In questa tomba oscura" – a grim vision of man's inevitable solitude – showing us just how much expressive variety Salsi can juice from a single text. The first setting, to music by Carpani himself, was painted in soft colours and crystal clear text; the second, a straightforward tune by Antonio Salieri, was brooding and pained; the third, by Beethoven, was much warmer and, when the baritone spluttered the word "ingrata", also bitter. Beatrice Benzi, a Scala opera coach, accompanied attentively, skillfully helping differentiate the works with contrasting backdrops.

The death theme continued with "La visita alla tomba", the first of Sept morceaux de chant, of which Salsi would go on to provide a further four songs. In the second, "Il delirio amoroso", Benzi was on especially fine form, providing restlessly dynamic pianism beneath Salsi's whimsical musings. Then Salsi came into his own in Respighi's Cinque canti all'antica, most of which are settings of Boccaccio. The medieval soundworlds suggested in the music were starkly expressive here, more baroque in character like the chiaroscuro paintings of Caravaggio. "L'Udir talvolta", a highlight, radiated Respighian sunniness; "Ma come potrei" was filled with hushed wonder; the coruscating "Bella porta di rubini" had a sense of childlike awe.

In Liszt's Tre sonetti del Petrarca Salsi let rip, emitting a powerful gust of sound that blew away the Scala cobwebs, the baritone providing granite-like singing wrapped in the veil of Benzi's chromatic accompaniment. Then with the arrival of the Italian Romantics we were cooking on gas. In "Ave Maria", a lush adaptation of the Overture to Mascagni's Cavalleria rusticana, Salsi brandished heart-on-sleeve verismo passion as he slid richly between large intervals, and the way he fizzled to nothing at the end was impressive. Cilea's "Non ti voglio amar" was wittily done, Franchetti's "Era di maggio" striking for its sense of purity and Leoncavallo's "Era d'Inverno" delivered with a cheeky twinkle in the eye.

The best was saved till last. Verdi's "Non t´accostare all´urna" had that nutty-buttery warmth that makes Salsi such a superlative Verdian, and he was on rousing form in the same composer's setting of Andrea Maffei's "Brindisi". Then came a succession of familiar encores. "Nemico della patria" from Andrea Chénier took us back to December 2017, when Salsi opened the season as that production's Gérard. A Rolls-Royce rendition of "Pietà, rispetto, onore" from Verdi's Macbeth followed.
Salsi is a superlative talent – get him back for an opera as soon as possible.
James Imam
Seen 4th March
the 17 of March, 2019
|
Print