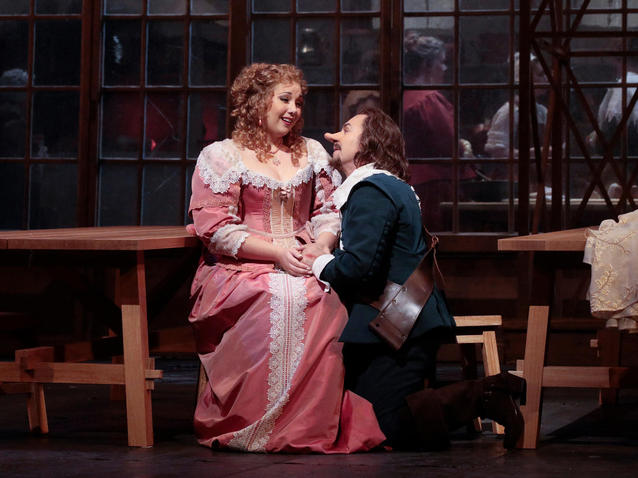 © DR
Operas are frequently derided for their weak plots. Many are based on melodramatic plays or novels that were once popular but have failed to stand the test of time. Franco Alfano's Cyrano de Bergerac is a welcome exception. Alfano's opera lacks musical originality, but it has both depth of emotion and great respect for Rostand's theatrical masterpiece.
It helps that Henri Cain's libretto is more or less a shortened version of the play. While speeches and incidents are omitted to keep the opera to a reasonable length, neither the words nor events are changed much. In this run at the Metropolitan Opera, we also get the rare treat of hearing Alfano's original score. The more frequently performed version is shorter and lower. This same production (by Francesca Zambello) is available on DVD with the adapted score, and there is no comparison. The original is far more exciting, both musically and dramatically.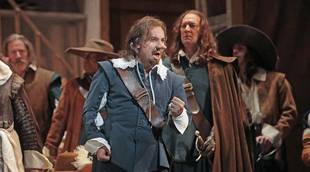 Roberto Alagna - Cyrano de Bergerac, Met Opera 2017
This whole production is a labor of love, from Alagna's advocacy of this edition to Marco Armiliato's impassioned conducting. And there's plenty to love in Alfano's composition. It often sounds just like Puccini (there's a reason Alfano wrote the most popular ending to Turandot), but that's not necessarily bad. Intimate scenes get lush, swelling music that borders on emotional manipulation. The act II duet between Cyrano and Roxane is meltingly beautiful. Especially in the early, comedic portion of the opera, sappiness is balanced out by humor, such as Cyrano's monotone "ah"s during Roxane's confession and the brass section's emphatic punctuation of boasts and battles.
The performances were just what you'd want from what may be your only chance to see an excellent opera. Both singers and instrumentalists got into the spirit of the piece. Armiliato led the Metropolitan Opera Orchestra in an exaggeratedly fiery reading of the score, with both strings and brass swaggering nearly as much as the chorus of Gascon cadets.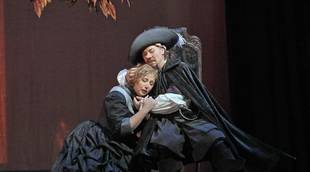 Jennifer Rowley, Roberto Alagna - Cyrano de Bergerac, Met Opera 2017
Roberto Alagna poured his soul into Cyrano, holding nothing back. Alagna's sound was rich and full, if not quite effortless. He seemed to survive the punishingly high and long sing through sheer bravado — appropriate to his character. In both comedy and tragedy, he was Cyrano, convincing with every gesture and expression. Jennifer Rowley sang his (secretly) beloved cousin Roxane in a ringing soprano with thrilling top notes. The role is new to her, and there were moments when her voice faltered, but it suits her very well. She was able to show off her wide range (including a nice, rocky lower extension), and her looks and mannerisms are perfect for the part of a beautiful and clever dreamer.
The main cast was rounded out by Juan Jesús Rodríguez's solemn and unusually sympathetic Comte de Guiche, sung in a smooth baritone, and bright-voiced tenor Atalla Ayan's naïve, lovelorn Christian. The numerous smaller ensemble roles were also well filled, with notable contributions from Roberto de Candia as Ragueneau and David Pittsinger as Le Bret.
Francesca Zambello's staging is a beautiful period piece. From the cross-section of a 17th-century theater where the opera opens to the gold-hued convent garden where it ends, every setting is both attractive and suitable. The war scene with its explosions and cannons is especially fun. Despite its perfect pictures, the staging never seems static, thanks to the quick pacing of the libretto (no pauses for pointless repetitions or soliloquies) and the dramatic talents of the cast.
I left the Metropolitan Opera wanting to see Cyrano de Bergerac performed more often, but doubting my future encounters with it could surpass this one.
the 07 of May, 2017
|
Print