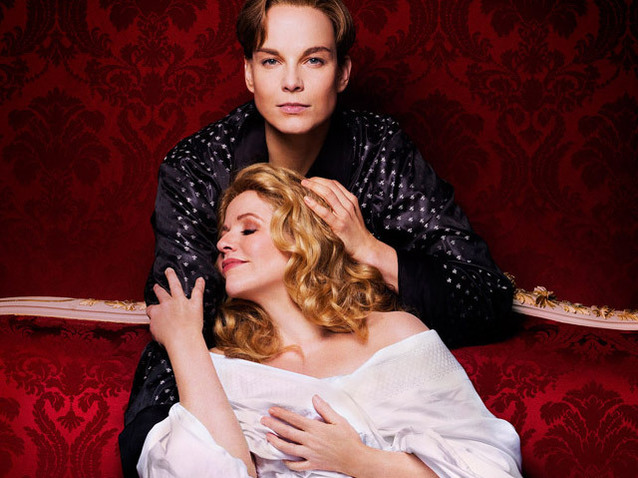 © DR
Der Rosenkavalier is an opera about the passing of time and the need to let go. It's a particularly appropriate, then, that the current Metropolitan Opera production marks goodbyes for two singers. Superstar soprano Renée Fleming is leaving the opera stage (though she will continue to perform in concerts and on Broadway), while mezzo-soprano Elina Garança has announced her intention to give up trouser roles (including, of course, Octavian).
Elina will be very much missed. She cuts a dashing figure in both trousers and corsets (the latter when cross-dressing as Mariandel), and she's entirely convincing as a proud but confused young man, desperately in love with two women at once. Her voice shimmers, always flowing smoothly and floating through the house. She manipulates the colors of her sound with great expression. As the Marschallin, Renée Fleming proved a surprising disappointment. Her singing was technically flawless as always, though at times underpowered. Her Marschallin was the picture of aristocratic grace but lacked depth of character.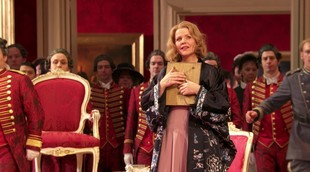 Renée Fleming - Der Rosenkavalier © Ken Howard / Metropolitan Opera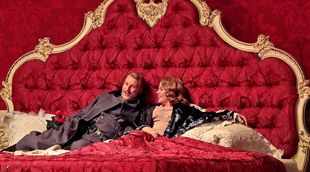 Günther Groissböck, Renée Fleming - Der Rosenkavalier © Ken Howard /
Metropolitan Opera
Erin Morley completed the trio of women as the young Sophie. She was charming, flitting excitably about the stage and chirping out her part in powerful, clear voice. Her sheer energy and innocence made Günther Groissböck's Baron Ochs especially off-putting. This Ochs was a predator not a buffoon, inflicting damage through malice rather than negligence. That took some of the humor out of the opera, but it also gave Sophie's horror and Octavian's protective instinct better motivation. Groissböck sang the role in an appropriately dark, suave bass. Act II was his showcase, with impressive bellowing at the start and a long, strong drone for the final note.
As the Italian Singer, tenor Matthew Polenzani made a brief and fabulously exaggerated appearance. Everything from his white suit to his overly Italianite tone screamed divo. Markus Brück proved a gruff, frantic Faninal. The rest of the ensemble was also excellent, with a standout appearance by Tony Stevenson in drag as the "innkeeper" (read: brothel owner).
Under the baton of Sebastian Weigle, the Metropolitan Opera Orchestra had fun with Strauss's playful score. The instruments' comments on the action came through clearly, with the horns, oboe, and flute all having their rude says. The music soared during its lyrical sections, while remaining restrained enough to keep the focus on the singers. The opera dragged at points, but that's Strauss's fault, not Weigle's, and the payoff (glorious vocal ensembles) was worth momentary boredom.
The new Robert Carsen production has caused some furor, with its final act set explicitly in a bordello (with nudity to match the setting). But in an opera about sex (with orgasms written into the overture), it seems silly to be shocked by a display of breasts. The fin de siècle production concept is largely coherent and illuminating. The Marschallin's bedroom in the first act is an old-world relic, all red velvet and gold and portraits staring down. A flock of servants, three sets of anterooms, and a comically oversized bed contribute to the picture of excess. The Faninal house in the second act provides a sharp contrast: black and white modernism, with cannons and murals of war as an homage to the source of the family's wealth. The act III bordello is opulence gone comically wrong. The girls wear too little clothing with too many frills; the giant paintings of nudes become transparent to reveal explicit scenes. A huge bed (also red, and reminiscent of the Marschallin's) appears from behind a painting when the secret lever is pressed.
During the final strains of music, a young boy in uniform and a squad of soldiers shoot and fall down dead. The message is unclear—is Octavian's and Sophie's love doomed by the coming war? Or are we just being reminded of their isolation from the bloody source of Sophie's wealth? In either case, the bliss of their dream is not as perfect as it sounds.
the 08 of May, 2017
|
Print