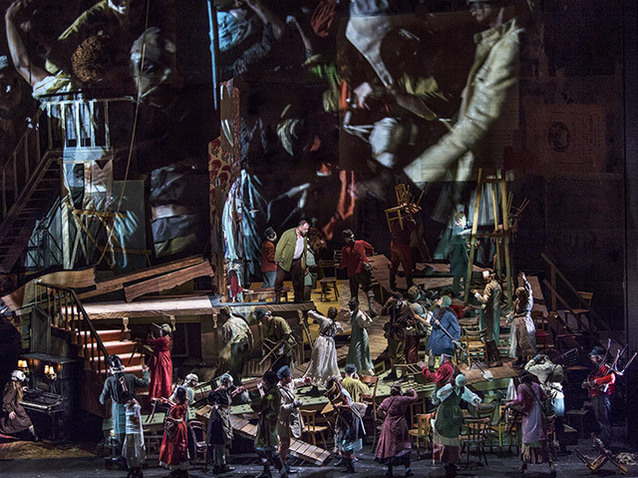 There is always something happening in William Kentridge's staging of Wozzeck. It can be hard to know what to look at—the supernumeraries creeping around in gas masks? The improbably piled-up junk that serves as a set? The charcoal drawings projected as backdrops? The little videos than range from absurd cartoons to scenes of abuse? It almost doesn't matter. All these elements work together to create a cohesive atmosphere haunted by war and poverty.
The production has a sort of dark whimsy. Marie's and Wozzeck's child is a puppet, but a puppet in a gas mask. A giant cabinet plays double duty as the doctor's office and a trick closet, which the onstage band emerges from for the cabaret scene. The violence (both political and personal) would be unbearable without a dose of childishness. Yet despite the use of puppetry and cartoons, this Wozzeck is naturalistic. It's easy for Berg's characters to become caricatures, but here each lives and suffers in complex, believable ways.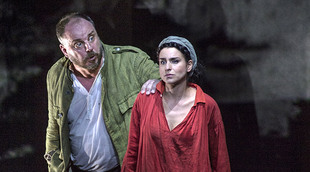 Wozzeck (2017), Salzburg Festival
Matthias Goerne, Asmik Grigorian © Ruth Walz
The many people in Wozzeck's life were cast well. Jens Larsen's gravelly-voiced doctor and Mauro Peter's bright, clear-toned Andres impressed, while John Daszak's bellowing Drum Major was extremely unpleasant (perhaps intentionally so). As the Captain, Gerhard Siegel showed off great vocal effects, from piercing falsetto to controlled bleating. Asmik Grigorian sang Marie's difficult part in a glassy, ringing soprano and persuasively conveyed her character's mix of playfulness, guilt, and maternal affection.
A successful Wozzeck depends largely on the title character, and baritone Matthias Goerne did not disappoint. His Wozzeck is resigned to the hardships of life but unable to cope with the loss of the little goodness he has (Marie). His characterization is subdued, which matches the smoothness of his voice. Such a buttery sound is not what usually comes to mind for the role, but it provides a beutiful contrast with the Sprachgesang portions of the score.
Vladimir Jurowski also emphasizes contrasts in his musical leadership. Under his baton, the Vienna Philharmonic navigates Berg's wandering between tonality and atonality without ever descending into chaos. The harp glissandos shimmer heartbreakingly, and the brass and percussion boom commandingly in the final interlude. The entire musical delivery is characterized by precision, with volume and timing perfectly coordinated between the instruments and singers.
This Wozzeck is a co-production with the Metropolitan Opera, Canadian Opera Company, and Opera Australia. In the intimate Haus für Mozart in Salzburg, it had overwhelming force. The small stage felt constantly full, and the naturalism of the acting read even from the back rows. It will be interesting to see whether (and how) the staging succeeds in a larger space like the Met.
Ilana Walder-Biesanz 
the 20 of August, 2017
|
Print