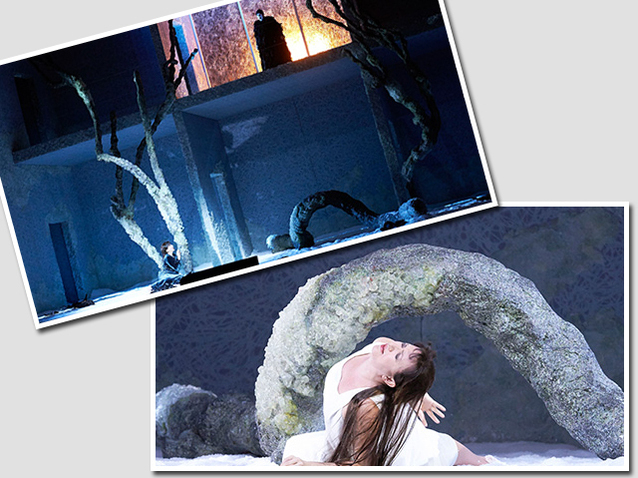 © APA Georg Hochmuth
Antonin Dvoraks major opera Rusalka has a weak performance history at the Wiener Staatsoper. Finally last Sunday we had the Premiere and first performance of the opera in the original complete version, 113 years after the world premiere in 1901. For director Sven Eric Bechtolf  the story of the mermaid Rusalka, the water goblin's daughter, is not a lyric fairytale. It is much more the thriller of a young virgin experiencing her sexual gender and first love affair loosing her virginity. Bechtolf and his team consisting of Rolf Glittenberg for stage design and Marianne Glittenberg for costumes create a Freudlike symbolic ambience, taking credit of Rocky Horror Picture show or silent horror movies like Dracula. The home of the Water Goblin, the wood sprites or the witch Jezibaba is a color- and decorless grey puppethouse of 2 levels. The opposite world of human beings is cleverly integrated through the view out of a window. There is no kitchen and hunting athmosphere in the second acte, the palace world keeps cool tristesse. The dramatic evolution of the story is a constant process without any interruption. Thanks to the marvellous conducting of Jiri Belohlavek, this intelligent interpretation of the plot gets a perfect fit in the orchestra pit. It is fresh, hearty, dynamic. His conduct contains dramatic contrasts, emotional disharmony as well as fairytale like wonderworld. He brings Bohemian soul to life and perfect support to the singers. That soul lacks Krassimira Stoyanova in her play but her singing is immaculate. Her soprano is fine, elegant and  soft. Michael Schade has a fine tenor but small and  remains colorless which fits to the role of the weak decisionmaker Prince. The young Austrian singer Günther Groissböck has his first state opera premiere in the role of the Water Goblin. He gives his role power, emotion and mystery. His sorrow and anger is brought alive by his warm and expressive voice. Once Monika Bohinec appears on stage and opens her mouth you know the foreign princess will bring bad luck. Her interpretation is convincing and effectful. Janina Baechles Jezibaba has the necessary glamour of a heartless and false witch. Her voice has the variations in the color and power as well as her play.
There is an overwhelming applause for the conducting and singing but  some retention for the direction. Certainly this production fits perfectly into the running Bohemian cicle of the Wiener Staatsoper.
the 03 of February, 2014
|
Print