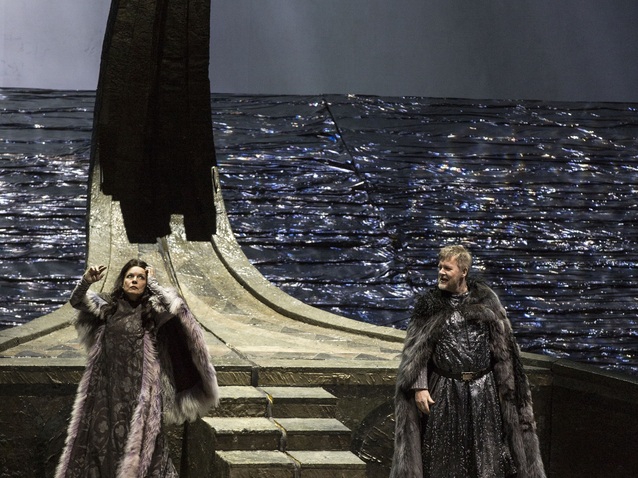 © luciano Romano
Teatro San Carlo and Napels are linked closely to the opera and its history over centuries. It has been here that this genre has been created and where the tradition and the education has been kept high. Only lately, the theater was effected by an economic crisis and has suffered from political influences.However, this architectural jewel still attracts attention.
Maestro Zubin Mehta is appearing for his first time here and conducts his personally beloved opera Tristan and Isolde by Richard Wagner, besides a concert of Mahler's 3rd Symphony. The theater has been sold out for a long time and the elegant napolitan society mingles with international opera lovers. It is a remake of a previous stage-design of Wagner's romantic love story by the Catalan Director Llois Pasqual, first shown in 2004 with a first class cast.
Violeta Urmana is back as a dramatic and fully present Isolde. Her soprano voice still shows its fine eloborated capabilities as long as she is not forced to forti and pointed heights. Here, deficits are shown in flexibility and legati.
Torsten Kerl is a young lyric Tristan. His voice lacks of volume but is safe and fine. He perfectly provisions his energy up untill the last scene and masters the demanding third act, shining and immaculate.
Stephen Milling convinces as King Marke, full of desperate sound with a voluminous penetrating dark voice. Jukka Rasilainen appears as a very present Kurwenal, charming and sustainable. Lioba Braun accompanies Isolde as an influential but loving Brangäne. Warm and awakening, her reclamations of warnings are overlaying the loving duett of Tristan and Isolde.
All the mysterious lovestory takes place in a wonderful somehow mediterrenean setting, on or next to the sea, created by stage designer Ezio Frigerio. During the first act, we encounter the protagonists on the deck of a nordish ship, moving on the waves. Back on land we have a panoramic view of the coastline at sunset as well as sunrise, with a glittering sunshine on the waves. Cypresses are giving shelter to the nestling lovers on a hidden sunbed. At last we find ourselves in a light and transparent carriage, with its curtains flattering softly in the wind, opening once again a pittoresque view on the shining surface of the sea. Isolde embraces her dying Tristan in his bed and movingly addresses her goodbye to her beloved and herself. Well tamed, the dramatic power of her voice, is giving a way to a fading, emotional diminishing elegiac singing. The audience is thrilled and gives a hefty ovation for everybody.
Helmut Pitsch
the 09 of March, 2015
|
Print