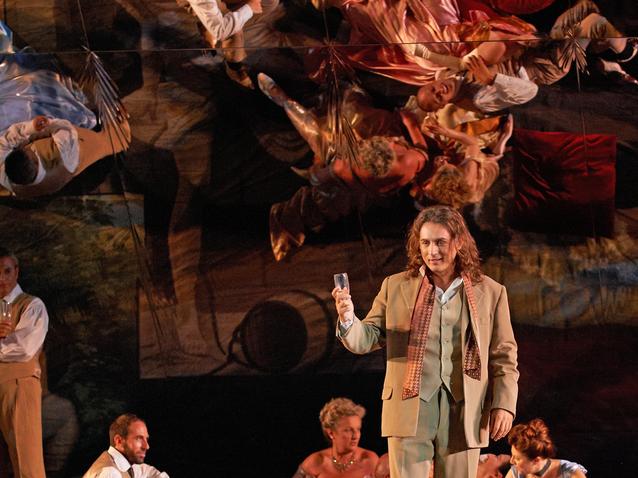 World famous opera festival at Macerata is dedicating this season to the famous set designer Josef Svoboda having died 10 years ago.

The reinstallation of his legendary ' Traviata of the mirrors` together with director Henning Brockhaus, established in 1992, is the central production this year next to Carmen and La Boheme. Allievi et maestri (students and masters) being the catchphrase of the festival putting the youth and their destiny at its core.
The opening of the evening is spectacular. During the overture it is slowly lifted a wall of mirrors out of the dark on stage. Together with the light effects the stage set design consists of the reflection of tapestries posed on the stage floor onto the mirrors. So we find ourselves in the bourgoise palace of Violetta, the garden of her countryhouse, the romantic field of daisies every image perfectly fitting to the story. Some furniture are added but in general the stage remains empty and respirates from the miracolous coexistence of real life and the life in the mirrors. Josef Svoboda intelligently creates the double moral standards of the society on stage.
Young Greek soprano Myrto Papatanasiu has a soft soprano and is safe in her part of Violetta but lacks drama. Ivan Magri tenor is warm, full of volume and convincing as Rudolfo. Luca Salsi's interpretaion of Giorgio Germont with his well balanced bariton voice is a highlight of the evening.
Maestro Daniele Belardinelli conducts the Fondazione Orchestra Regionale delle Marche with attention, missing the intimate, sensual and romantic moments of his part.
Maccerata is certainly one of the most beautiful open air opera location. The wonderful setting below the stars, the mirrors reflecting the Sferisterio and everybody in the audience getting part personally of the last scene of Violetta's death generate an impressive image to remember.
the 21 of August, 2012
|
Print