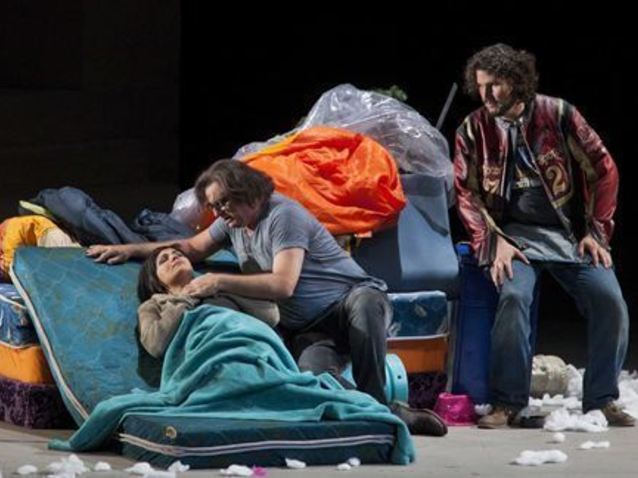 © Silvia Lelli
Puccini's masterpiece is a celebration to youth for young Italian director Damiano Michielotto. After having staged numerous operas by Rossini, Donizetti and Mozart Puccini is getting his favorite composer. 
 
In his interpretation action never stops. In a fast pace he brilliantly tells us the story in a modern times environment and social description. The 4 friends do not represent serious artists more over they are 4 different characters of young kids of possible rich origin looking for distraction and their own way of living in light poverty and rebellion. This view is wonderful accompanied by stage designer Paolo Fantin and the costumes of Carla Teti. After being introduced to the artists apartment in the first scene the oversized window opens and we get a view on a gigantic street map of Paris and we end up being in the Paris copied department store 'Printemps'. The pre christmas consumption rush with all its kitsch of red nose ren deer and Santa Clauses is cynically described. Children in the united colors just get overwhelmed. In deep contrast scene 3 on the outskirts of Paris showing the miserable life. Last Mimi returns to the artists apartement being prepared for moving. The big window is closed again and rain clashes to it. Mimi´s name being written on the fogged window and finally swept away with her death. A strong emotional touching image not to forget.
This subtile, emotional and well elaborated tale is less exiting in Daniele Gatti's conducting of the Vienese Philharmonic orchestra. Maybe it is owed to the unfortunate situation of having a different Rudolfo every evenings. After the opening of this new production the Polish tenor Piotr Beczala got ill and has been replaced first by Jonas Kaufmann and in yesterday´s performance by Marcello Giordano. He has shown several difficulties in his part. Star soprano Anna Netrebko convinces once more with her full, warm and gentle soprano. Her appearence on stage is a thrilling event on its own. The young Italian singers Massimo Cavaletti as Marcello, Alessio Arduini as Schaunard and Carlo Colombara as Colline are well fitting on acting and singing together. We see Georgian Nina Machaidze soprano s becoming more and more dry and dramatic in her singing Musette.
the 09 of August, 2012
|
Print