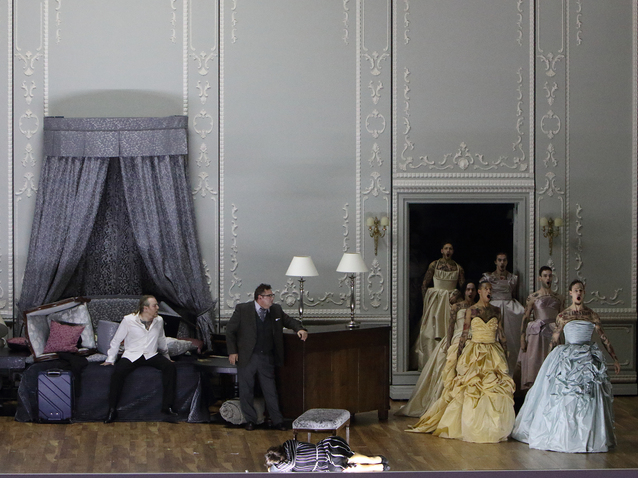 Sergei Prokofiev was very fond of the story when he first red the novel of Valeri Brjussow and found some autobiographical parallels with his own life, relations and philosophical orientation. His inner conflict between rationalism and Christian belief, reality and surrealism, love and affection, demon and obsession. He started the composition during his exile years in Paris and Ettal, Germany. After the unsuccessful first presentation, he composed a second version, which he was not able to hear in his lifetime. He died in 1953, actually the same day as his tormentor Stalin, the first concertant presentation happened in Paris 1954 and the first scenic one in Venice 1955.
The operas of Sergej Prokofiev do not share the broad popularity as his orchestral works do. So it is not surprising that this new production of The Fiery Angel under the direction of the Australian Barrie Kosky is the first presentation at the Bavarian State Opera. The story is based on the mediaval saga of Faust and Mephisto and their battle between good and evil. Margarethe is Renata, the main character of the opera. She has been seduced by Madiel, her fiery angel, as a child who has given her up once she fell in love with him. She continues searching him in all her relations as in her encounter with Count Heinrich or Ruprecht, which is the other main character whom she meets at the beginning of the opera. He immediately gets obsessed by this mysterious lady and they decide to look for Madiel together. The following is a mix of encounters with various personalities, growing orgiastic desires and sarcastic surrealistic conflicts. Finally Renata ends up in a convent and is treated to get ride of her demons, but contrarly affects the other nuns with sexual obsession. She gets condemned to be burned on the stake. The plot is open for broad phantasies which are realised by the director. Starting civilized in bourgeoise style, the whole story develops to a cabaret-like soft gay revue with tattooed dancers in long evening robes or in high heels, stockings and suspenders.
Much more expression and excitement comes from the orchestra pit by young Russian conductor Vladimir Jurowski. He achieves a fine differentiation for the spiritual counterparts and demonic excesses. The orchestra is very well prepared and follows him in concentration. Renata and Ruprecht are sung by the two Russians : Svetlana Sozdateleva and Evgeny Nikitin. Being of native Russian speaking and fine singing and playing, one can feel the complex relation between the two developing. Even in suspenders and bare chest, Igor Tsarkov presents an elegant sophisticated Faust, whereas Kevin Conners is a comic and absurd Mephistopheles with his fat body, plastic penis and strange hairstyle. Surprisingly the Munich audience is spending a strong applause to this excentric and overbording direction accompanied by an expressive dramatic music which borders with insupportableness.
Helmut Pitsch
the 07 of December, 2015
|
Print