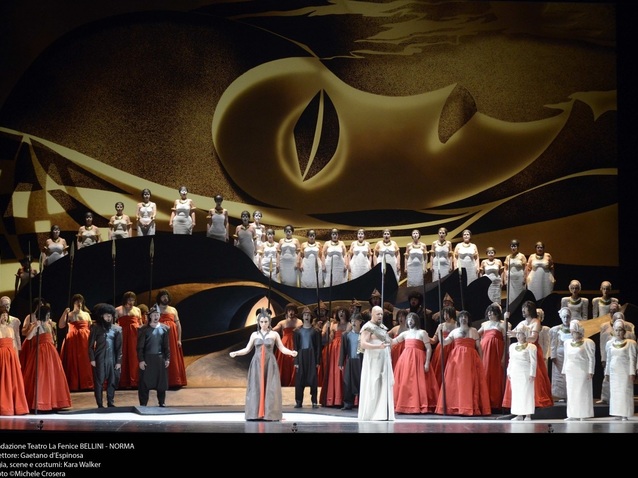 © Michele Crosera teatro la Fenice
It is a special Premiere and therefore there is a prestigous mixture of VIPs in the audience of the Teatro la Fenice : politics, people from arts, fashion and design. The Venice Art Biennale, one of the biggest international art events and the Teatro la Fenice have established a joint project, selecting at every exhibition of the Biennale a young artist to direct a new opera production at La Fenice. This year, it is Vincenzo Bellini's tragic masterpiece Norma, and Kara Walker, an Afroamerican artist, is in charge of the direction, stage design and costums.
Kara Walker was born into an artist family in California and moved to Atlanta as a child. Being successfull internationally, she has made gender, race, sexuality and politics the main objects of her interpretation and has become famous for her large sized cuts and sculptures. The direction of Norma is her first work on stage. All of these interesting preconditions seem perfect for an encounter of a new perspective.
It starts with a big green portrait of an African man face as the curtain, looking at the audience during the opening. Once the curtain is lifted, we see a big dark woman head mask over the whole width of the stage, her nose and lips forming a hillside landscape. The background is filled with dark cuts being illuminated in various light shows, creating different natural environments and settings. Gallia is transfered to Africa and has become an African tribe, their ruler Oroveso is a proud chief in a leopard dress with an elegant stylish hair cut. So far so good, but his warriors were put in long red dresses with simple longhair perukes. Culminating in the different sizes and volumes of the member of the choir this brings up a rather comic image. Similar and inconsistent are the outfits of Norma and Adalgisa, in long elegant western like dresses. The Romans are transformed to western colonists with their Safari outfits. As there is not much of gestures and movement on stage, the evening does not develop excitement and tension but remains as a series of beautiful natural images accompagnied by the music of Vincenzo Bellini.
Gaetano d'Espinosa seems very active and emotional in leading the orchestra, fulfilling some tribal dances, but the orchestra is not really affected and thrilled. So the dramatic evolution of the plot has to take place on stage. Carmela Remigio as Norma starts nervous and restrained but warms up nicely along the evening. Her coloratura soprano runs smoothly and remains precise. Together with Veronica Simeoni and her fine and dark mezzo timbre as Adalgise, they fill the theatre with a lot of emotions as love, jealousy, despair and generousity. Gregory Kunde is an experienced tenor and hides well the limits of his voice. His heights are pressed and he uses much power, but is still safe in tonation. The mighty chief Oroveso is sung by Dmitry Belosselskiy. His warm bass and flexible voice fits to his exotic royal outfit of power, but as well to the caring father.
There is a warm welcoming applause at the end for this performance, remunerating the rather brave access of Kara Walker to this new experience of her. It is a clear sign to the organisers of honoration and to continue this collaboration offering new perspectives and opera adventures.
Helmut Pitsch
the 26 of May, 2015
|
Print