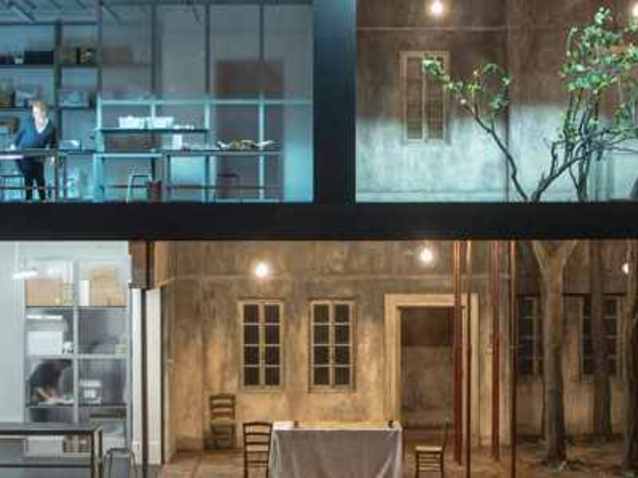 This year's choice of a contemporary opera at the Munich Opera festival fell on British composer George Benjamin´s Opus "Written on Skin" texted by Martin Crimp as a German premiere. The realization is an international coproduction of the Aix festival, Nederland´s Opera, Covent Garden and Maggio Musicale. The story is based on a medieval legend about social discrimination and suppression, observed and directed by angels – so the spectators can experience the limits of destructive power and self recognition. The British director Katie Mitchell has been in close contact with the composer in realizing this project. Being trained at the drama theatre she gently combines the 2 levels of the story, the heavenly world of the angels and the earthen world of the 3 actors. The Protector sung by Christopher Purves, has married young orphan Agnes and gives her a miserable life of senseless, deadharted domination. George Benjamin has dedicated Agnes to young soprano Barbara Hannigan and she seems to be the incarnation internalizing the fate of Agnes, marvelously sung and acted. Iestyn Davies is the boy to be selected by the Protector to write on skin the book of the good deeds of the Protector and the violence of the lordship.
The stage is designed to show us the two levels of the story. So we see the frontal view of a house with 4 rooms on two floors. – Man on Earth and Angels in their heavenly lab.
Benjamin's music is sublime, subtle and fragile. 15 scenes are stringed together without symphonic interludes or overtures. The brutality of the story is expressed in the simplicity of harmony and melody between singing and accompanied orchestral underlining. Kent Nagano as conductor is a long term friend and study collegue of George Benjamin. He knows to communicate the composer's vision together with the Klangforum Wien, an orchestra which is very well acquainted with the interpretation of contemporary music. Once the last tone died away there is silence, consternation and emotion in the audience to be brought to relief with a heartful vivid applause at the end.
the 08 of September, 2013
|
Print