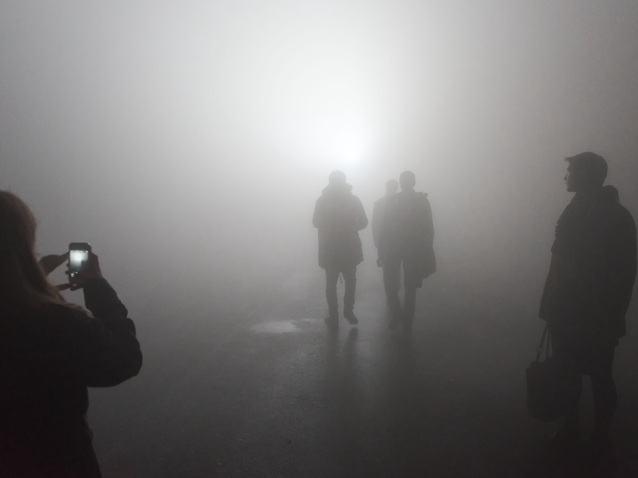 © Wonge Bergmann
Tragedia dell' ascolto was the classification of his opera by Luigi Nono. He was born 1924 in Venice and he had a strong relation to his home town. His composition style was formed by the sound and the special hearing environment of the laguna city with its echoing waters, greenless brick architecture of stairs, arcades and narrow streets. Even if he was a music revolutionary and the creator of contemporary Italian music, he was still very close to the traditional composing education of the Renaissance, with the polyphonic choirs dispersed all over a room. In his later works he returns to this style in order to force the audience back to learn hearing, to sense a new feeling of hearing and experiencing a room in its three dimensional emptiness being filled up with music.
He wrote to Claudio Abbado, the conductor of the world premiere of Prometeo in 1984, that he does not want an opera, a stage designer and a director, but a new tragedy drama with moving sound, reading a room, discovering, filling end emptying it. The music is full of harmony, rhythm or melody are underrepresented. It is a soft sound stretched into a wide and silver spheric installation, technically enriched. It remains mainly well tamed in a low volume.
Ingo Metzmacher is once again the conductor of this demanding contemporary work, presented this year at the Ruhrtriennale. The complexity requires a very precise guidance of the musicians. The Ensemble Modern Orchestra is divided in four different groups, one at each wall, as the the soloists of the Schola Heidelberg who are dispatched over the room. A second conductor, Matilda Hofmann, stands opposite to Ingo Metzmacher, and together, they guaranty an overall presence, steady and hitting the tact, visible for all. After two hours and forty minutes of concentration and meditation, the audience has made her experience on sound recognition and hearing as well as sitting hard on the wooden benches. Respectfully admiring ,they thank heartily all the participants.
Helmut Pitsch
the 15 of September, 2015
|
Print