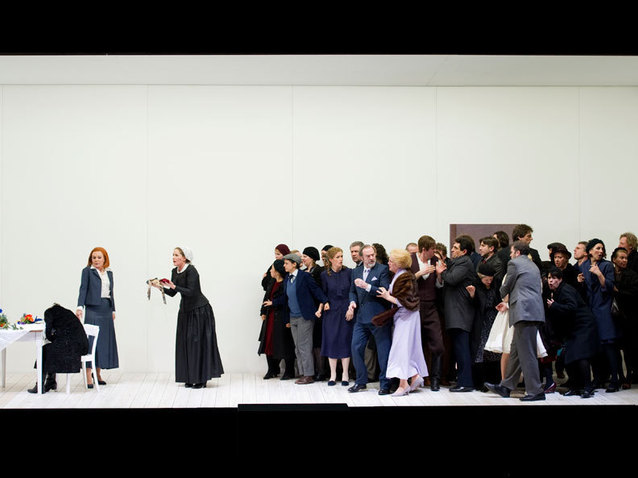 © Deutsche Oper Berlin
Director Christof Loy `s first work for the Deutsche Oper in Berlin is a fine elaboration of the characters and their psychological drama in the Bohemian society of the late 19 th century. It is the emotion, the conflict of the Kostelnicka Buryja his interpretation is based upon. The story is told out of her reflexion after having been imprisoned for her deed. The stage design by Dirk Becker supports this access with a clear simple poky box as a synonymous for the enclosure of the people and the  bright light design of Bernd Purkrabek does not allow any hiding and forgiveness but makes the story even more depressing.
It is Leos Janaceks first opera and it took him several attempts to finish and additional versions to feel complete. In Berlin we hear the version of 1908. It is the first opera based in prose and this makes it so realistic and touching. Donald Runnicles guides the orchestra powerful, explosive but sensitive through the Bohemian landscape and feelings. He lets everybody feel the drama of tradition, control, false believe and enclosure.
The cast is a splendid selection of characters and voices, timbres and personalities. Michaela Kaune is a soft well tempted Jenufa her lyrical voice shiny and full of sound. Jennifer Larmore is Kostelnicka Buryja. Her fatal life comes with a dramatic voice, strong and cold bringing her into isolation. Hanna Schwarz with her shreeky foxlike red hers plays indistinctive but very present Old Buryja. Beautiful the 2 tenors Will Hartmann as Laca and Joseph Kaiser as Steva. Their strong and emotive voice are energetic and sensible.
This is a great drama with expressionist music and the audience was overwhelmed at the end.
the 14 of March, 2012
|
Print