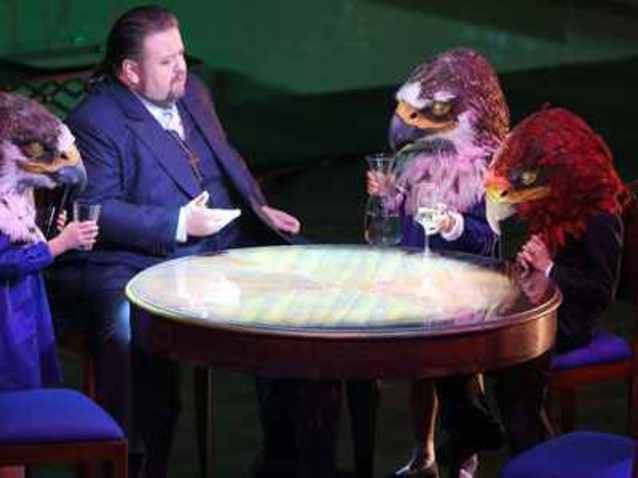 © Bayerische Staatsoper
There was a lot of tension before this new production of Richard Strauss's Frau ohne Schatten in Munich. It is the celebration of the50th jubiliee of the re opening of the Bavarian State Opera Theater (the so called Nationaltheater) after the second world war with the same masterpiece of Munich born Richard Strauss and it is the first Premier of Kyrill Petrenko as new Music Director.
After his huge success in Bayreuth expectations were high – and fulfilled. Like a magician he guides the orchestra through this post romantic, modern but as well traditional colourful oevre. His hands, his eyes keep contact with every instrument, every player. He literally dismantles the whole orchestral sound to form it newly gracefully together. It is fine,  fragile, versatile. His piani flitter his forti traumatize but never he forgets the singers. He gives them space for their interpretation and keeps them always audible. And it was a pleasure to follow their singing and play. Johan Botha is a sweet atmospheric Emperor, Adrianne Pieczonka is the shy helpless Empress mutating to the heroess putting her hands on her destiny and her own responsibility. It is an image of the selfliberation of women and their political liberation at the beginning of the 19thcentury. Deborah Polaski is the Amme. Elegant, fancy, smoking and wearing a suit she might be more cruel and dramatic. Elena Pankratova is 3rdof the female trio as the Dyers wife. Her performance is glorious and touching. The audience can feel her conflict of love, unanswered feelings and unhappiness with her role in life. Her high dramatic soprano is firm, colourful and safe in the heights. Wolfgang Koch shows very well  Baraks, the Dyer's despair about the behavior of his wife, doing everything correct after so called social principles, to look after the material matters and create a family.
These complex story of conflicts and human relations and roles was put in a fairytale ambiance by Hugo von Hofmannsthal , Richard Strauss co genius for his librettos.  Polish director Krzysztof Warlikowski  has taken over the demanding task to put this on stage. In previews he explained his deep studies of Richard Strauss and Hugo von Hofmannsthal's life and psyche. He closely follows the text and content of the story whereas he does not want to tell a cosy fairy tale. Too much it is a political and social drama. Stage design and costums are contemporary placed in a positive environment. But where?  Is it a splendid palace, luxury dyers headquarter or a lunatic asylum where the different levels of the tale happen. The desir for children is present on stage, children are included in the action and direction. Videoinstalations give further space including a clever start with scenes out of Alain Resnais movie "Last year in Marienbad" b/w made in 1961 at the rise of the curtain. From the beginning, this performance is exciting, demanding everyones concentration. The stage is crowded, many worth noting details happen and then the music is overall. Lots of applause for the singers, overwhelming for Kyrill Petrenko who has conquered the heart of the Munich audience, and positive acceptance for the direction. 
the 06 of December, 2013
|
Print