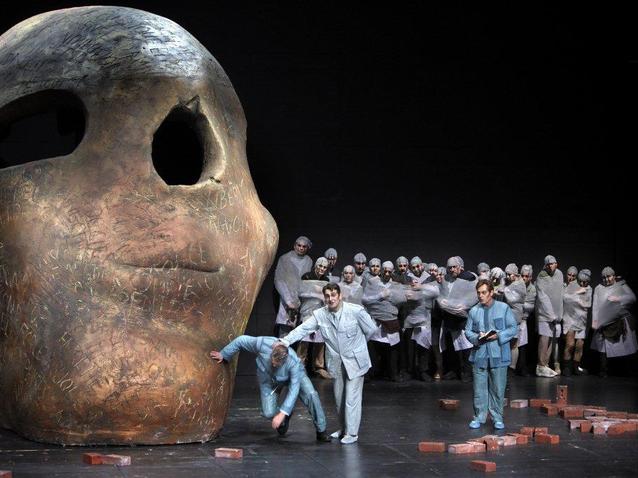 © Tiroler Festspiele/ APA Presseservice
The Tyrolean Festival in Erl has gained an international reputation and since its new Festspielhaus is finaly built, it offers a venue in winter too.
This year is presented a new interpretation of Fidelio under the direction of the German sculptor Aleaxander Polzin. It is his first appearance as opera director. One can feel his artistic background : once a big white linen cloth covering all the stage and its decoration has been emoved, a big sculpted skull in soft brown is dominating , being constantly moved and turned around, and even the empty inside gets part of the play especially as Florestan´s inhuman prison cell. It might be a symbol for the repression, slavery, slaughter, as well as his closed lips for the abolition of free speech.
Rocco and his assistants are dressed in a flourescent light green mao like suit - costumes by the Polish designer Wojciech Dziedzic. His prison is more like a gulag, kind of a labour camp. The prisoners are dressed with rags and a kind of an elastic net which keeps them from moving. The tyrann Pizarro is dressed in all shining white, walking with spastic movements.
There is not emotion or acting between the persons. Leonores victory over the evil represented by Pizarro is turned into the dark. The victory of love and human fidelity is emprisoned by the perfectly prepared and singing choir. At the end everything is covered again with the white linen. There is no hope that man can succumb evil and supression or dictatorship : a puzzle left to the audience.
The real victory takes place this evening in the orchestra pit. Gustav Kuhn and his young festival orchestra fight for perfection and the triumph takes place in the third Leonore overture, in the intermission to the last image. What a sensible and sophisticated conducting. Pianissimo are spheric, fortissimo are overwhelming. The battle cannot stop, it flows vividly to the final joyful discharging. The singing quality is mixed : Leonore by Bettine Kampp is full of strong heights difficult to understand and disappearing in the lower levels. Geeorge Vincent Gazheli is a heroic well balanced tenor. Jens Waldig remains colorless as Rocco and so does his assistant Giorgio Valenta as Jaquino. At his best again, Michael Kupfer is a shining elegant minister.
The audience is thrilled and a hefty applause is dedicated to the musical director and to the orchestra. Some buhs appear for the team of the direction but are quickly overloaded by bravos later on.  
Helmut Pitsch
the 14 of January, 2015
|
Print