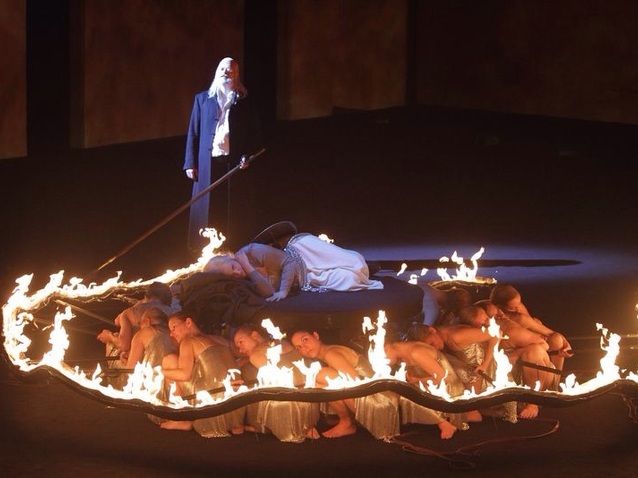 It is most probably Wagner's best selling opera, known for its romantic and musically most melodious arios, and naturally for the " Ride of the Walkyries ". This piece has made it to hit charts and has been used countlessly for dramatic film scenes. But this opera has much more to offer and is full of exciting duetts of most loving and caring characters: Wotan sacrificing his beloved son Siegmund and his warfare compagnion and daughter, more of a mental copy of himself, Brünnhilde. And of course the incestious brotherlove of Siegmund and Sieglinde.
Once again it was Kyrill Petrenko in the orchestra pit who celebrated this firework of romantic pictures enriched by melody, built up on harmonic and enharmonic accelerations. Petrenko knows how to tame the power of the orchestra, he can play on multiple volumes, so there is always a balance with the singers. As far as their pronouncition is correct, every word is understood.
The political confrontation of Austrian born Elisabeth Kulman as Fricka and German Thomas Mayer is one of the highlights of the evening, thrilling and touching, immaculate singing and interpretation. Again a sensible demonstration of the desperate situation of Wotan in his complex mechanism of family relations and shrinking power follows in the tragic dialogue of him with his dedicated daughter Brünnhilde, sung by Evelyn Herlitzius. Her voice offers dramatic heights, tempted to shrill but every tone is clear and stable. In the middle she falls back in parlando, sometimes an additional effect. Anja Kampe's voice has developed a strong metallic soprano, lacking the lyrics for Sieglinde. Christopher Ventris showed the beauty and strength of his Tenor filled with a warm timbre.
Director Andreas Kriegenburg created agai a clever, logical and well elaborated interpretation. Still, the start of the third act extrudes mixed reaction by the audience. We see the horses of the walkyries stomping on the stage, a dozen of female background actors giving a kind of a dancing fitness show for 10 minutes before the so long expected musical interpretation of the ride of the walkyries starts.
But in the end again, enthusiastic ovations for another top quality performance at the Bavarian State Opera, Die Walküre is well back at the place where the opera has first been shown in 1870.
Helmut Pitsch
the 23 of March, 2015
|
Print