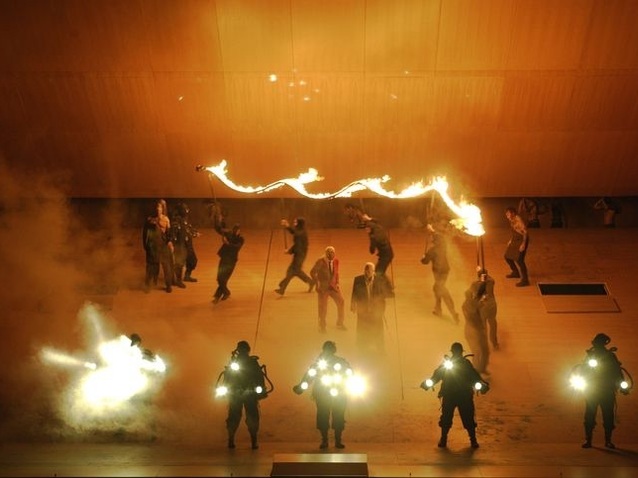 The new production of Richard Wagner's epic story the Ring was a highly expected opera event in 2012 in Munich, and Andreas Kriegenburg's very lively and colourful creation gathered various reactions, but over all high recognition by the audience. It is his very intimate, human and sensible play between the characters, full of gestures, together with a big crowd of background actors for a kind of human-made scenery, which made this production so special. This year, the rivival of the Ring brings the acquaintance of the new musical director of the Bavarian State Opera, Kirill Petrenko, and his highly regarded musical interpretation, which he successfully presented in Bayreuth and for which he was celebrated over the last two summers.
The stage is crowded, no curtain closed, slowly men and women move, undress, color themselves in blue and start moving likes waves currently flowing to the music which climbs up magicly from the pit. Still some unsecure insets and hornblows accompany the warm flow of instrumental stream and you hear the orchestra telling a story.
Kirill Petrenko fills the music with emotional content. He is narrative, and puts feelings and natural sounds in it. It is not overloading neither transparent, it is present and exciting. He does not shock with volume even when the drums can be unbelievably full of sound, bringing the whole opera house to swinging. The orchestra attracts attention and, at the same time, includes the voices too as universal sound. This is the magic of this evening. And most of the voices just superbly infiltrate.
Thomas Konieczny is a master of acting, full of joy in play and drama in singing. His oath on the ring makes you get goose bumps and just stay away from it. He lets appear Thomas Mayer as a looser, as the winning godess, fading already away. Thomas Mayer's voice lacks the power to compete, even with Elisabeth Kulman as his wife Fricka. She is not a hysterical powerseeking wife, much more of a mother, trying to keep the family and the power together, and fights lyrically and softly in her interactions with Wotan. Impressive and giant in stature and voice, Günther Groisböck as Fasolt is nearly as good Christof Fischesser as as his brother Fafner, both dominant and heroic on stage. What a pleasure to follow Burkhard Ulrich in his gentleman like play of Loge. In his red suit, with his long white hair, he seems to be a lost playboy, full of hidden wit and comic. Andreas Courad is convincing as the clever but desperate Mime.
The appearance on stage of Erda is again another great creation of the director Andreas Kriegenburg, but Okka von der Damerau does not make too much use of it, as Goldan Schultz as Freia. Her apples guarantee eternal youth, but not fine and expressive singing... In the final set Levente Molnar as Donner and Dean Power as Froh guide the Gods to their new home, Valhalla, with fresh and sound singing.
The story comes to a seemingly happy end, and the upcoming tragedy to follow is already present. The enthusiasm of the audience disembarks in warming honoring bravos and drumming feet.
Helmut Pitsch
the 17 of March, 2015
|
Print