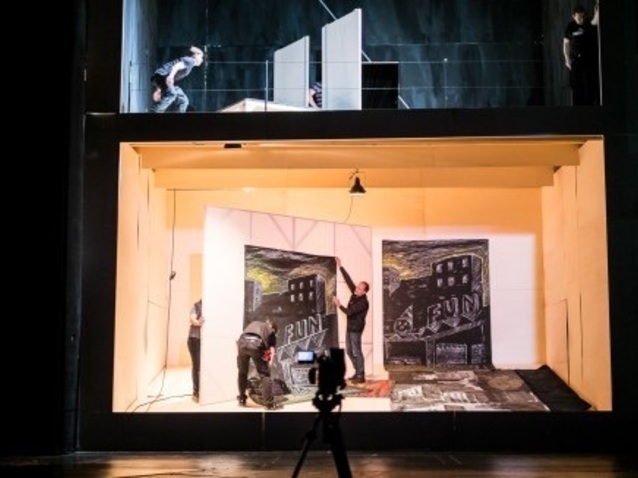 The Salzburg Easter Festival has developed its international reputation for exceptional opera performances and exquisite concerts. Since the seperation from the Berlin Philharmonic Orchestra some years ago, the cooperation with the Sächsische Staatskapelle Dresden and its worldwide highly regarded conductor Christian Thielemann has been very fruitful.
This year's festival presented the realisation of a new production of the famous Verismo twin package Cavalleria rusticana by Pietro Mascagni and Pagliacci by Ruggero Leoncavallo. The pair has been composed and first performed within two years and their creation was influenced by the upcoming Italian national pride and unification as well as social changes.
The young Munich born stage designer, stage and movie director Philipp Stölzl has been selected for the realisation of these two very close but at the same time very different works. Cavalleria rusticana's story is based on rustic chivalry. It describes the desperate fate of Turridu, which is linked to a strict behavior codex and tradition, whereas Pagliacci is full of human feelings and emotions. Philipp Stölzl is a successful film-maker, who has his origin in musicvideos and music films, and he transmits his film-making genes on stage, making the audience feel like in a cinema. Masterly he shows every detail of the plot, presents background information and parallel happenings. He uses live transmission partly in overwhelming close ups to be even more touchy. The huge stage of the festival house is divided into 6 little stages put together in two rows with a curtain of its own for each stage window. So there is a lot of possibilties to bring content on stage. Sometimes the lower row of the three forms one big stage, sometimes one little stage is used as a screen for the live transmission and close ups. Cavalleria rusticana is told in a strict black and white kafkaesk format to underline the dramatic psychological conflict of the characters. Costumes, stage and light design only know these two colours. The dramatic flow is like a serie of different camera-installations, slowly increasing the excitement untill the final fall of the charming hero by the knife of the horned husband.
Christian Thielemann follows this interpretation concept by Philipp Stölzl in the orchestra pit without any compromise. This is not the warm full embedded elegiac orchestra sound, it is a psychological analysis of the characters, their relation and their instrumentalisation. Clear, transparent, the use of the instruments is thrilling, with volume, pauses and colourful expression.
On stage Jonas Kaufmann, after some minor insecurities at the beginning, gives once again a perfect demonstration of his acting talent, supported by his warm, dark tenor. Ambrogio Maestri is a corpulent counterpart with a lot of Italian appearence and fine singing. Lludmyla Monastyrska's soprano makes Santuzza feel like a betrayed wife, full of lust for revenge, but the voice acclaims some shrill trembling heights. Annalisa Stroppa remains colorless as Lola, as Stefania Toczyska as Mama Lucia.
The show of Pagliacci is different. The same stage concept is used, now in bright colour and a vivid Italian daylight. Intelligently, the audience experiences several levels of parralel actions happening in front of the travelling actors stage, on their stage and behind the stage as well as in the actors little carriage. The continuos flow of various views including close ups and live video transmissions is like a puzzle set together to a final drama of love, jealousy, rage, intrigue, in toto a very human fate.
Again Christian Thielemann and the orchestra give the right musical frame and filling to Philipp Stölzl's realisation. Full romantique sound, broad volume in the strings and horns, emotional legati and crescendi but no artistic overflow. One more occassion for Jonas Kaufmann to impress his fans with his talents. The wonderful effect of the story that real life comes back into the play on stage, men' s duty to play their role next to other feelings is expressed in the close up of his face when preparing his mask culminating in his desperate revenge and final wording La comedia e finita - the play is over. But nothing was over - a storm of affection and honors from the audience grows to ovations for Jonas Kaufmann and Christian Thielemann. Maria Agresta and Dimitri Platanias share the hearty applause for their performance as Nedda and Tonio.
Helmut Pitsch
the 09 of April, 2015
|
Print