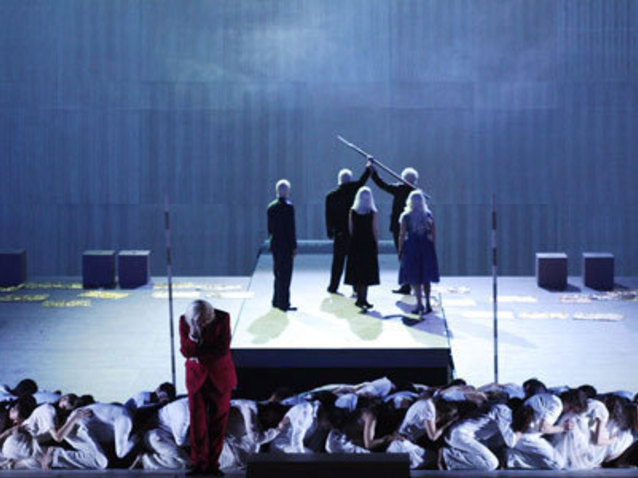 © Bavarian state opera
The Bavarian State Opera has started her long expected new ring production Saturday Feb 4th. After the unfortunate failure of her last Ring Production due to the sudden death of the stage director Heribert Wernecke the audience was highly vibrant for a new adventure with RIchard Wagners majestic master piece. Within the next 4 month all 4 parts of the Ring will be staged in a new productions within one season. Thus being a demonstration of strengh for all participants the direction of the State Opera in addition is creating a big spectacle all around with additional performances, educational seminars, conventions interactive introduction and a multimedia show on the facade of the Opera House after the performances as it was first imagined by the master itself  setting the building in fire.
The new production has been created by Andreas Kriegenburg a highly regarded director on the theater stages with east german roots. After his successful Idomeneo and Wozzeck is this his third production for Munich. He shows a very simple concept without sophisticated technical effects, video shows or huge machines on stage. He creates strong pictures by a harmonious choreographie of big crowds of people on stage demonstrating the natural effects of the waves of the river Rhine, the shining gold treasury, the suppressed Nibelungs up to the misty clouds around Walhal. The simpler the picture the more touching it gets for the audience. His origin from the theatre stage is recognizable in his elaborated design of interaction between the protagonists. The stage is widely open and ablazed with light all through the performance. The costumes are pure phantasy and there is no context to any time period or set.
The singers are all well perpared and selected for this production. Danish Johan Reuter brings his first appearence in Munich as Wotan. His voice masters the requirements of the role but he lacks dramatic presence on stage. So Stefan Margita as Loge is the master of the performance and the grey emincence in the world of gods. He got a clear, bright and silvery tune in his voice giving him a real cunning personality. Sophie Koch is soft, beautiful singing Fricka but not a negging betrayed and unsatisfied wife. The discovery of the evening was certainly Johannes Martin Krenzle who jumped in for Wolfgang Koch as Alberich: Alberich is a key person in the concept of Andreas Kriegenburg and Johannes Martin Krenzle well transported it. His acting was lively, inspiring and persuasive accompagnied with beautiful voice.
Kent Nagano in his last season in Munich could again show a clear sign of his talent. He guided the orchestra with a warm understanding for the story on stage. His interpretation of Wagners music this time was energetic, powerful although his tempi were modest and well selected for the singers. At the end lot of applause for direction and singers.
the 07 of February, 2012
|
Print