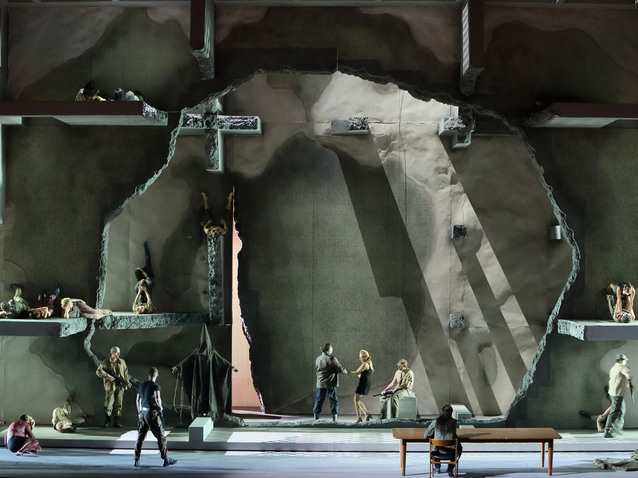 © Winfried Hösl
The Munich opera festival has developed to one of the leading opera festivals without making a big press about it. Every year in July the Bavarian State Opera presents a program consisting of a selection of the last season new productions, as well as major remakes, as well as new productions and accompanying contemporary music evenings. Two big open air spectacles enrich the voluminous program.
Major attractions are the casts. Every evening represents a chance to hear the best singers on stage at the moment. So to say the cast of La Forza del Destino is a who is who of the opera almanac. Jonas Kaufmann, back from his retreat, and Anja Harteros are Munich beloved couple on stage.
This opera of Giuseppe Verdi is full of fine arias offering a wonderful platform for all singers to present their abilities. Asher Fisch is the conductor of this remake first presented in 2013 and this evening, he finds his special convincing access to the genius Verdi. The overture succeeds as a real bath of feelings; the emotions of the destiny theme are striking. He speaks the language of Verdi, the apotheosis of the war is an Italian marching music, fresh and sneaky, the apotheosis of God and belief is mysterious and transparent everywhere; the tragedy of love story and family conflict is present in the musical interpretation. Asher Fisch is sensible as well as demanding to the singers.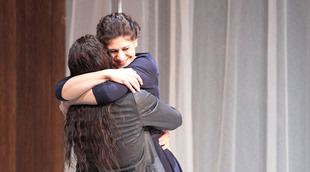 Jonas Kaufmann, Anja Harteros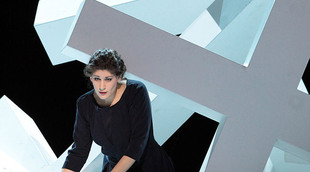 Jonas Kaufmann, Anja Harteros
Loving virgins in conflicts seeking for salvation are the Anja Harteros speciality. Leonora di Vargas is heavily torn between her love to her Father and to Don Alvaro, both unfulfilled and seeks salvation in her lonely life as an eremite. Enough for breath-taking arias complaining her fate and Anja Hateros shows her full register. Immaculate her height, bright and warm her transformation in the middle. Jonas Kaufmann has been her partner and lover in several performances and they sympathize well. He is the young rebel driving her mad and turning her secluded well-guarded existence upside down. His voice shows no remains of his illness, he sounds fresher and stronger; his weaknesses in height seem under control. He nearly overflows the audience with his warm, darkly timbre in the middle.
Simone Piazzola has taken over the role of Don Carlo di Vargas, brother of Leonora and dominated by his disastrous claim for revenge of his father's death. His young and strong baritone full of colour and has a wide range. Similar to Jonas Kaufmann he is a talented actor too, so it is a pleasure for ear and eye to follow the combat of the two counterparts. Vitalij Kowaljow has taken over the part of Leonora's father, tragically killed at the beginning, and then Padre Guardino. His bass is elegant and very cultivated, powerful and understanding. Ambrogio Maestri is an entertaining Fra Melitone. Self-confident, gossiping and unrespectfull, all is comprised in his strong voice. Nadia Krasteva avoids a dramatic Preziosilla and shows her wide potential.
In Martin Kusej's direction the plot is transformed into modern times, war and destruction take a great part in this tragedy and recent events have found their presence as the tortures at the Iraqi prison of Abou Ghraib. Martin Zehetgruber has designed a lavish stage, within others with a detailed remake of the prison out of the satellite perspective. Martin Kusej is head of the major Munich drama theatre and has worked on an elaborated personal guiding of the singers. There is well dimensioned movement and action on stage, following music and libretto. The complicated story lasting over nearly a lifetime is simplified and thrilling. The audience can witness a highlight of this year's opera festival and spend a hearty and long applause to all participants.
Helmut Pitsch
the 30 of July, 2017
|
Print