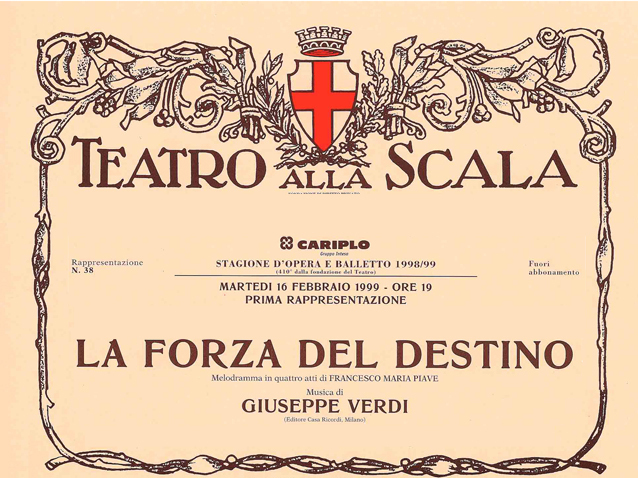 © Teatro Alla Scala
General informations
Composer:Giuseppe Verdi
Librettist:Francesco Maria Piave
Creation date:

1862

Creation place:

Russian federation

Acts number:

4

Original language:

Italian

Opera House of original production:

St Petersburg Opera
Work description
When he went to St Petersburg to create his La Forza del Destino, Verdi was greeted as an ambassador of his country. This opera, with a libretto as absurd and improbable as that of Il Trovatore, whose overture is undoubtedly Verdi's most famous, is a sombre, excessive and confusing work that was modified multiple times; nonetheless, sublime bel canto rules over it from start to finish. The abundance of dramatic situations and the importance assigned to several secondary characters, some of them comedic, provide Verdi with the material for a rich, contrasting and varied musical creation. The romanticism, passion, inner thoughts and despair of the characters produce magnificent examples of choral writing, as in the pilgrims' prayer in Act II, with Leonora's aria, and the magnificent and illustrious baritone-tenor duets that dot the work, in which the composer's style triumphs. 
Summary
The action takes place in Spain and Italy in the mid-18th century. Alvaro accidentally kills the father of Leonora, with whom he is in love. They both flee, but separately, as their love has become impossible. Five years later, reunited in a monastery without knowing it, they are caught by Fate in the form of Carlo, Leonora's brother, who sacrifices his sister to avenge his family's lost honour. 
Act 1
Alvaro (tenor) cannot wed Leonora (soprano), daughter of the Marquis of Calatrava (bass), as he is not of noble birth. About to flee with his beloved, Alvero inadvertently kills her father, who dies cursing his daughter.
Act 2
Separated in flight, each of the lovers thinks the other is dead. Eighteen months later, near an inn, Leonora, dressed as a man, recognises Don Carlo (baritone), her brother, disguised as a student, still pursuing them in order to avenge their father. In the tavern, a gypsy woman (mezzo-soprano)) foresees the war, and Don Carlo tells the assembly of his desire to avenge the death of the father of one of his friends. Leonora is once again forced to flee and takes refuge in a monastery. When the superior, Padre Guardiano (bass), learns his identity, he grants him refuge in a hermitage and orders the monastery's Franciscan friars to respect his anonymity.
Act 3
Don Alvaro and Don Carlo, both enlisted under false names in the Spanish army, forge a bond of friendship. Alvaro has saved Carlo's life before being gravely wounded; he hands a valise to his friend with the order to destroy it if he should die. Carlo's suspicious curiosity leads him to open the valise. He then understands that his friend is his father's murderer. Carlo then provokes Alvaro, who has recovered from his injury. Alvaro is forced to flee and hide in a monastery, whilst Don Carlo still thinks only of vengeance.
Act 4
Five years later, Carlo runs into Alvaro who, meanwhile, has become a priest. He provokes him again, challenging him to a duel. Alvaro wounds him, leaves to seek help, and recognises Leonora, who turns up having been alerted by the noise. The dying Carlo, recalling his sister's betrayal, stabs her. She dies in the arms of her desperate lover, who curses Fate conspiring against them, in front of the father superior who is horrified by this blasphemy.