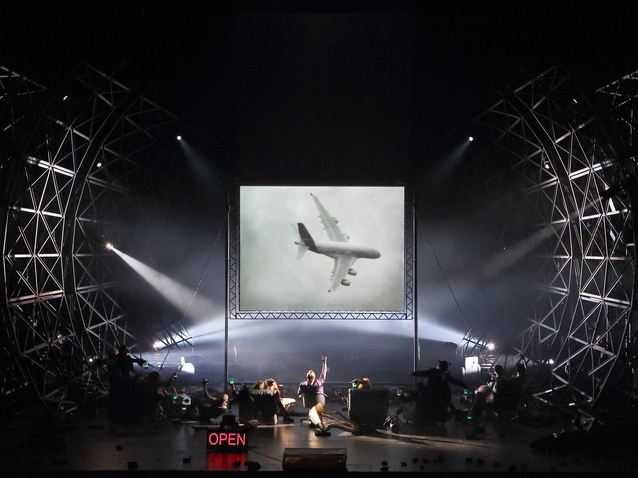 © Winfried Hösl
The first premiere of the new season of the Bavarian State Opera is a historical premiere too. First time Arrigo Boito's opera Mefistofele on stage here. Arrigo Boito is one of the glamorous artists of Italy in the last 19th century. Educated in music, he was a literary, a librettist and a composer, but also a political and philosophical active person too. As a founding member of the avant-garde artist group "I Scapigliatura", the tousled - he represented the newly found interest in the mythical bad, the fight between good and bad, god and devil. Johann Wolfgang von Goethe's masterpiece Faust was a central point of the movement and the general philosophical world of the time. Many composer worked on the story of the devils pact of Faust and Mefistofele, and the contrast of paradise and hell. Arrigo Boito was inspired and fascinated by the character of Mefistofele and his desire for the perfidious pact with Faust, the scientific ever searching human being.
Roland Schwab is the director of this new production, together with his team stage designer Piero Vinciguerra, costumes designer Renee Listerdal, light by Michael Bauer and video by Lea Heutelbeck. The late romantic musical work by Boito consists in several charming touching arias and impressive big opera scenes, and lacks of an overall constant flow or span of excitement. That's where the direction comes in. There is a lot of movie-like action, big mass scenes, but as well some intimate touching scenes.
Rene Pape is Mefistofele and he openly likes his role, considering his genuine play. His voice is relatively unflexible and partly not mystical or brutal enough. Put in a dandy-like bluish suit, with sunglasses and cowboy boots, he opens the performance by leading a party with his dark gothic style followers, resembling to hell angels. Next to the heavenly sound of the perfectly prepared choir of the Munich State Opera who sit in their underground, follow an appealling video installation as a doorstep to paradise. Faust gets on stage fixed to a dog lead around his neck - another déjà vu of this direction, rather trivial. The next scene continues in another party, rural like the beer festival, people standing and dancing on benches, Faust and Wagner joining them.
Joseph Calleja offers to Faust his heavenly silver tenor voice glittering high and flexible. His play is less flexible and sensible. He remains robust in his gestures, raising pity for his naive behavior. He is caught by the elegant charming but deadly Mefistofele and the fateful devil pact is settled. Both seated on a heavy motorcycle titled highway to hell - another déja vu. They arrive at the garden of Margarita.
Kristine Opolais is once more a member of this premiere cast in Munich and shows her dramatic talents. Designed as a copy of the cool blond Grace Kelly, she hosts Faust in her garden and the romance begins, ending in her violation as a show event for the scandal searching masses. Her gentle voice dries out in higher parts, carefully hold together to avoid a metallic flattering. And again, Faust and Mefistofele flee to the more ecstatic event of Walpurgisnacht, the dark society culminating in an erratic dance which makes all the dark stage moving. Finally we get to real intimate and touching moment at Margarita's prison, where the desperate young girl is tortured by her bad feelings and regrets. Kristine Opolais pain's feels real and miserable, Joseph Calleja setting his tempting voice into an angel alike call for love, finally ends up in a hospital-like setting after his failure. Elena is his nurse and together, they describe perfect love in platonic realisation.
The Epilog brings back the chorus in another mass scene for the victory over the devils practice and the end of Mefistofele. The energetic young conductor of the performance, Omer Meir Wellber, sets off with a very dramatic interpretation in the orchestra pit, in parallel to big mass scenes, he turns the volume of the orchestra on. What an impressive explosion of sound which just evaporates gently. It is a fit between action on stage and underlaying music, but he brings in discipline and emotions, and bridges the lack of interactive play between the cast. He holds the power and the excitement of the evening with clear orders to soloists and to the omnipresent choir. So the composition and libretto by Arrigo Boito get inhaled with a lot of life and the audience is alert and magnetised. A long lasting applause merits all participants which hardly find place on the stage.
Helmut Pitsch
the 19 of November, 2015
|
Print