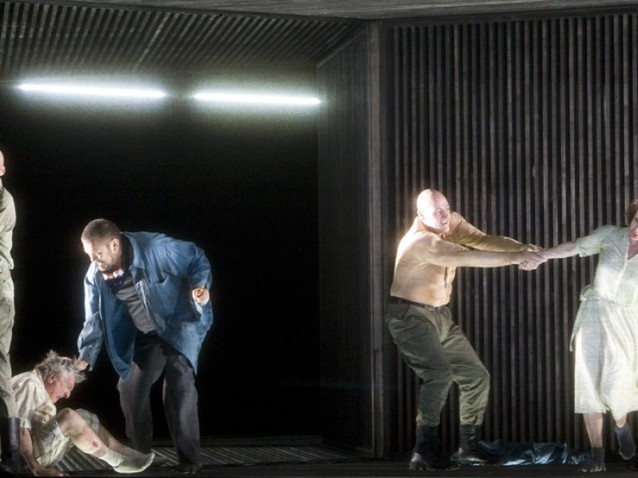 © Staatsoper Berlin
 With merciless sequence is the audience drawn into Wozzeck's circles of suffering in Büchner's play. Berg's music creates passion and compassion of and for the characters and victims of this inescapable orbit. The precision of Andrea Breth's unstoppable clockwork in light of Wozzeck's fate is a supreme staging and interpretation completely based on strict reserve and subordination to plot, text, and subtext. The purism of the approach accentuates the world of Büchner's play and Berg's congenial music in a breathtaking way.
The musical practicality of the stage team, the full sound without too strong a volume, the ever so clear Sprechgesang lead  the audience to feel close and emphatic to Wozzeck's and the other characters' fate under the merciless clockwork on stage. Rarely a full house listens and follows so intensely to a performance of such a demanding work. 
 The well compiled cast performed with high intensity with Roman Trekel as an outstanding Wozzeck, Waltraud Meier's highly expressive Marie and Stefan Margita (Tambourmajor), Graham Clark ( Hauptmann), Pavlo Hunka (Doktor), and Katharina Kammerloher as Margret.
 The interaction of the Staatskapelle and Daniel Barenboim since 1991 is a model case of active, long-term and hard-working creation of an incomparable artistic partnership rarely seen in reality elsewhere in the world.
The performances of Alban Berg's operas Wozzeck and Lulu (also directed by Andrea Breth) exemplify great examples of this successful teaming – and hopefully we will be able to experience many more such performances in the future !  
Achim Dombrowski - Hamburg
the 18 of February, 2014
|
Print