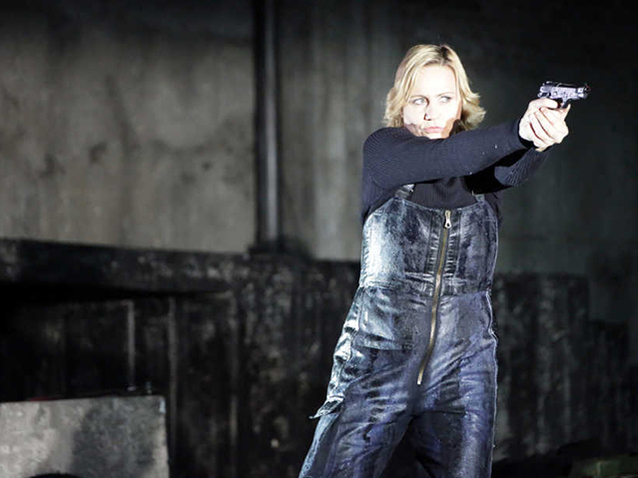 © DR
La Scala's season opening every 7 December is always a major event, but this year the excitement is especially high as it marks Daniel Barenboim's farewell to this theatre to which he gave his all. And we must first of all admire his performance: his conducting, ample, powerful and taut without any superfluous showmanship, perfectly sums up the spirt of Beethoven's only opera, the morality of an upright man stated in clear and radiant sound by a constantly renewed dynamic, by an attention to the singers that reflects Beethoven's attention to people.  Daniel Barenboim is completely attuned to this music and turns this performance into a lovely concert first and foremost – it opens with the overture known as Leonore II, possibly chosen by Daniel Barenboim for its genuinely symphonic aspects, especially in the relatively slow tempo chosen by the conductor.
The staging by Deborah Warner does not provide the same pleasure: it is a visual platitude that seems to result from a disappointingly lazy approach: the English director who made a name for herself with Shakespearean drama at no time finds the right spirit for this Fidelio, remaining primarily illustrative; setting the production in the present does not make it "modern"!
A few battered fuel tanks amidst high, uniformly grey walls, actor-like directing that merely recites text without any exploration, with no search for additional symbolism: the first act, set in the prison, is desperately grey, like life in prison; the second act, in a dungeon, is desperately black. And even the ending, when the joyful people come to celebrate freedom from defeated tyranny, fails to give Deborah Warner a single idea!
Yet there have been directors who were able to create intense images, in tune with this chorus brimming with hope and humanity – for example, there was Johannes Schaaf, in 1989 at the Geneva Opera, suddenly covering the whole stage in poppies, creating a huge field of dazzling red poppies in which people sang of their joy! Nothing like that from Deborah Warner: it starts grey and ends grey!
And since she directs her actors in exactly the same grey way, it is up to the performers to mould their characters, which they do quite well, for that matter, from the charming Marzelline played by Hamburg soprano Mojca Erdmann, whose voice is as delicate as her silhouette, with very clear Mozartian diction, uncluttered and very spontaneous, to the Jaquino played by the young Berlin tenor Florian Hoffmann whose singing and acting perfectly blends with his partner in this first part, which is more vaudeville than drama. Gallant Rocco, the prison guard caught between his natural kindness, the requirements of his office and fear of the tyrant Pizarro, played unremarkably (because there's no staging!) by Korean baritone Kwangchul Youn,  who sings quite well, although the style does not really convey the character's psychological development. The Swede Peter Mattei, always superlative, playing a de luxe Don Fernando, and German bass-baritone Falk Struckmann complete the trio of nuanced baritones who provide the backdrop against which the hero and heroine can stand out.
Much was expected from this Florestan sung by German tenor Klaus Florian Vogt, a former horn player turned singer, specialising in Wagnerian roles like Lohengrin, Parsifal and others: his voice is undeniably lovely, but in fact it is prettier than it is expressive. His clear (too clear?) timbre does not convey the prisoner's anguish or inner exhaustion: right from his initial "Gott" where we should feel a frisson, we simply admire the fine voice, singing very well, but seeming to be interpreting a lied rather than a character who is torn apart. This is light years from Jonas Kaufmann's performance in this role, which the Munich tenor was able to convey with naked strength. Klaus Florian Vogt is a good singer, but he is not a greater interpreter: for a role as demanding as that of Florestan, this is no small difference! In contrast, the title role is magnificently played by the "Italian" soprano – actually of German origin – Anja Kampe who has made a name for herself in recent years on the great international stages (but who remains virtually unknown in France!). Her role as Leonore, which she has sung from Vienna to Glyndebourne and from Los Angeles to Munich, features both vocal impact and stage credibility, with masterful singing and acting, extraordinary energy and conviction. With Daniel Barenboim conducting, it is this radiant Leonore that does justice to the opening of this new season at Milan's La Scala.
the 10 of December, 2014
|
Print