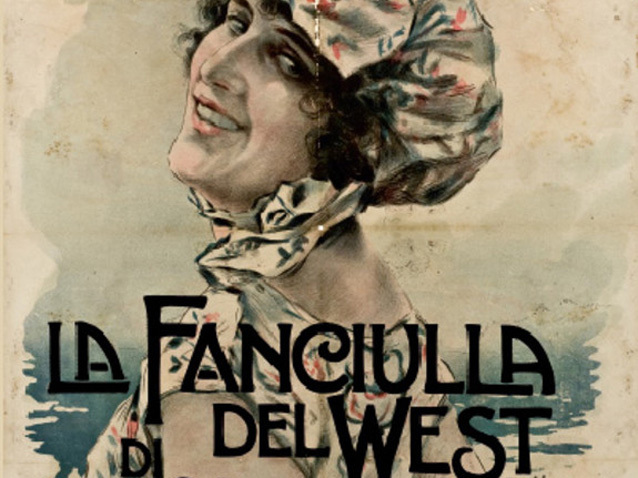 © DR
General informations
Composer:Giacomo Puccini
Librettist:

Guelfo Civinini

Creation date:

1910

Creation place:

United states

Acts number:

3

Original language:

Italian

Opera House of original production:The Metropolitan Opera.
Work description
With the success of Madame Butterfly, Puccini received worldwide adulation. Six years later, after a trip to America where the new continent won him over, he composed La Fanciulla del West, which once again was an immediate success, although it did not attain the heights of public esteem and triumph of his previous three operas: Madame Butterfly, Tosca and La Bohème. The lack of any "great arias" or "great roles," aside from Minnie, coupled with a certain naïveté, partly explain the lesser popularity of this work.  But the orchestra plays a predominant role, and the original and inventive music is perfectly matched to the dramatic situations and liveliness of the plot.
Summary
In 1850, the fate of gold miners, love and its torment in a mining field in California during the Gold Rush era. 
Act 1
In the mountains of California during the Gold Rush, Minnie (soprano), a young woman of sturdy character, runs a bar where miners come to relieve their boredom. Jack Rance, the sheriff (baritone) wants her. But she does not love him and dreams instead of a great love. Dick Johnson (tenor), actually the outlaw Ramerrez, enters. Minnie falls instantly in love with him. The exasperated sheriff leaves the saloon to go find the bandit. Minnie then invites Johnson to meet her that evening.
Act 2
At her cabin, Minnie welcomes Johnson. They declare their love for one another, before Rance warns Minnie that Johnson and Remerrez are one and the same. Minnie sends him packing, but he soon returns, wounded. Minnie hides him; Rance shows up and notes the drops of blood. Minnie then suggests a poker game in which she and Johnson are the stakes. She cheats and saves Johnson.
Act 3
Later, despite everything, Johnson is captured and taken to be hanged. An armed Minnie shows up just in time and reminds the minors of everything she does for them. Grateful but sad, they allow the lovers to set off for a new life.