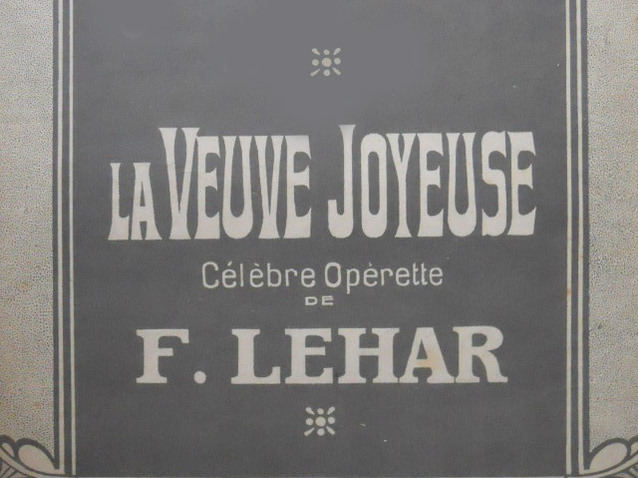 © DR
General informations
Composer:

Franz Lehár

Librettist:

Leo Stein

Creation date:

1905

Creation place:

Austria

Acts number:

3

Original language:

German

Opera House of original production:Theater an der Wien.
Work description
The Merry Widow is one of the gems of Viennese operetta; its dazzling success made Franz Lehar heir to Johann Strauss II.  Reflecting the splendour of Imperial Vienna with its whirlwind of sumptuous parties and décor, the operetta stands out for the elegance and colour of an orchestration of symphonic scale. The public was immediately captivated by the melodic richness of the score, which offers many catchy tunes that can be hummed with pleasure, like the famous "Song of Vilja", the "pavilion duet" and the "Merry Widow Waltz". As in Johann Strauss's operettas, the waltz is the heart of this three-act work that has played all around the world, from Milan to St. Petersburg, from Berlin to London by way of New York. Between its creation in Vienna in 1905 until its arrival in Paris four years later, the work was performed triumphantly 20,000 times all over the world! Staged in Paris in 1909 with the composer in attendance, the French adaptation by Robert de Flers and Gastyon de Vaillavert was so popular it outshone the original German version. Belle Époque France immediately waxed enthusiastic over the hesitations of Danilo, the elegant diplomat who frequents Maxim's. People went wild for the apparent flightiness of a super-rich widow seeking true love. While Franz Lehar easily managed to win over audiences who were carried away by the rhythm of a dreamlike world as light as a dream, his originality and musical know-how carried "The Merry Widow" to the greatest opera stages where the most illustrious stars performed it. In recent times these included Joan Sutherland, Gundula Janowitz, and Kiri Te Kanawa and, on disk, Elisabeth Schwarzkopf.
Summary
At the Paris embassy of the Principality of Pontévédro, Baron Mirko Zeta and his wife Valencienne are giving a reception in honour of a rich Pontevedrian widow, Hanna Glawari, whom they would like  to see married off to one of her compatriots so that her late husband's fortune will not leave the country. Count Danilo seems to be the ideal candidate, especially as Hanna is visibly taken with him. But in order to avoid her thinking that he is only attracted to the rich widow's money, Danilo feigns indifference, until the unfolding of certain misunderstandings leads him to declare his love. Despite Danilo's scruples, the wedding will take place, for the greater happiness of all. 
Act 1
In Paris, Mirko Zeta, ambassador of the Principality of Pontevedro, throws a party, where everyone is awaiting the arrival of Hanna Glawari, a very wealthy widow who has just arrived in the capital. While his wife Valencienne fends off the advances of young Camille Roussillon, the ambassador is concerned with getting Hanna Glawari quickly married to one of his compatriots so as to keep her fortune from leaving Pontevedro, which would bankrupt the country. Count Danilo seems to be the perfect candidate, but he refuses resolutely. In fact, he knows Hanna, whom he was to have married earlier had an aristocratic uncle not objected to such a misalliance. Danilo doesn't want it thought that he would now marry the young woman for her fortune.
Act 2
Hannah throws a party in turn. She sings for her guests the Song of Vilja, a young wood nymph who seduces a hunter. Given Danilo's repeated refusals, the other gentlemen declare themselves candidates for the marriage. Valencienne is about to give in to the Camille's insistent flirtations after she joins him in a small pavilion. Her husband has realized what is going on, but when he opens the pavilion, he discovers Hanna, who has had sufficient time to take Valencienne's place next to Camille. This subterfuge fools the ambassador, who is dismayed by the young widow's forthcoming marriage to a Frenchman. Danilo, furious, shows his jealousy, thereby informing Hanna of his true feelings.
Act 3
For her reception, Hanna has re-created at home, with songs and pretty girls, the atmosphere of Maxim's, from which Danilo returns having met no one there.Mirko Zeta receives a catastrophic dispatch informing him that only the young widow's fortune can save Pontevedro from bankruptcy.He beseeches Danilo, who easily convinces Hanna not to marry Camille.She explains to him the ruse staged in the pavilion.They express their love for one another in the famous duet:"Lippen schweigen(Heure exquise – The Merry Widow Waltz)".Zeta has discovered his wife's fan in the pavilion; he now asks for a divorce, and he himself asks for Hanna's hand in marriage.He gives up on this plan as soon as he learns that the widow loses her fortune if she marries.Danilo can finally propose to Hanna unambiguously.He will no longer be able to withdraw his proposal, even when he learns that the widow will lose her fortune …to her new husband !