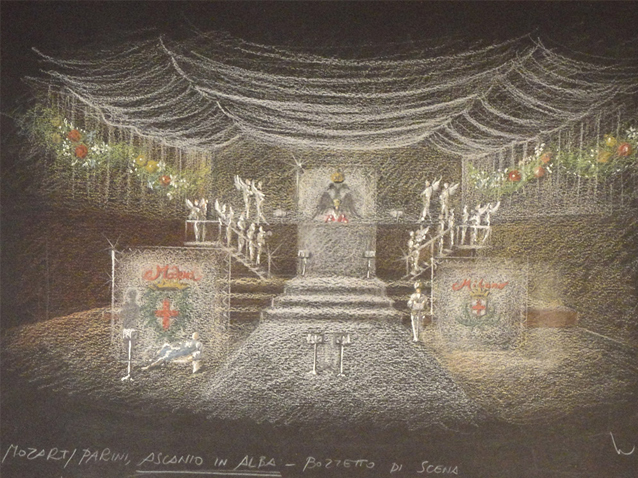 General informations
Composer :Wolfgang Amadeus Mozart
Librettist :

Giuseppe Parini

Creation date :

1771

Creation place :

Italy

Acts number :

2

Original language :

Italian

Opera House of original production :

Teatro Regio Ducal Milano
Work description
Following the triumph of his "Mitridate, rè di Ponto," the Imperial Court in Vienna commissioned Mozart to create a work for the marriage in Milan of Archduke Ferdinand of Austria to Princess Beatrice d'Este of Modena.
This pastoral opera, described by Mozart himself as a serenade, sparkles with vocal virtuosity and instrumental brilliance. The young archduke so admired it that he wanted to offer the genius composer a permanent contract. But his mother, Empress Maria Theresa, dissuaded him from that idea.
Summary
Venus descends from the heavens and announces to her young son Ascanio that he will marry the nymph Sylvia, descended from Hercules. Before that, she puts the girl's virtue to the test and finds her without fault.
Act 1
Vénus (soprano) boasts to her son Ascanio (soprano-castrato), son of Aeneus, of the beauty of the city of Alba, over which he is to reign. The young man burns with desire to return to his betrothed, the nymph Sylvia (soprano). But Venus demands that he not reveal his identity to her, in order to test her virtue. Sylvia adores Ascanio, who appeared to her in a dream. Venus reassures her son and promises him he will marry her before sunset. The young man joins in with the shepherd's chorus and young Fauno (soprano castrato) as they celebrate Venus. The priest Alceste (tenor) arrives, accompanied by Sylvia. Ascanio is dazzled by her appearance but must bide his time before revealing his identity.
Act 2
Ascanio and Sylvia cross paths, but neither dares to approach the other. Faunio invites Ascanio to be the witness for Sylvia's wedding. Sylvia then thinks that Ascanio will not be her husband. Desperate, she remains silent and runs off. Alceste consoles her and promises her future happiness. Venus appears and shows Sylvia her fiancé, who is none other than Ascanio. Finally, she entrusts to the lovers the prosperity of Alba.