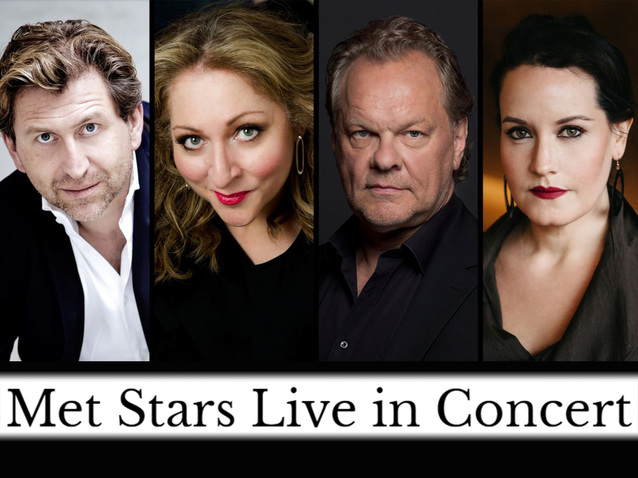 © DR
General Information
Production title:

Wagnerians in Concert - Met Stars Live in Concert (2021)

Creation date:

08/05/2021

Work - Composer:

Récital

-

Compositeurs divers

Opera house:The Metropolitan Opera.
Description
Live streaming.
Piano : Craig Terry
Program :
"Dich, teure Halle"
Wagner's Tannhäuser
"Allerseelen," Op. 10, No. 8
Richard Strauss
"Cäcilie," Op. 27, No. 2
Richard Strauss
"Wie Todesahnung … O du, mein holder Abendstern"
Wagner's Tannhäuser
"Ein Schwert verhiess mir der Vater"
Wagner's Die Walküre
Wesendonck Lieder, WWV 91
   "Der Engel"
   "Stehe still!"
   "Im Treibhaus"
   "Schmerzen"
   "Träume"
Richard Wagner
"Wirst du des Vaters Wahl nicht schelten?"
Wagner's Der Fliegende Holländer
"Winterstürme wichen dem Wonnemond … Du bist der Lenz"
Wagner's Die Walküre
"Abendlich strahlt der Sonne Auge"
Wagner's Das Rheingold
"Nur eine Waffe taugt"
Wagner's Parsifal
"Euch Lüften … Entweihte Götter!"
Wagner's Lohengrin
"Nun will ich jubeln"
R. Strauss's Die Frau ohne Schatten
More information is available on the official website of the opera house.
Schedule
May 08, 2021 19:00:00
Work's characters list
Ténor
Baryton
Soprano
Soprano