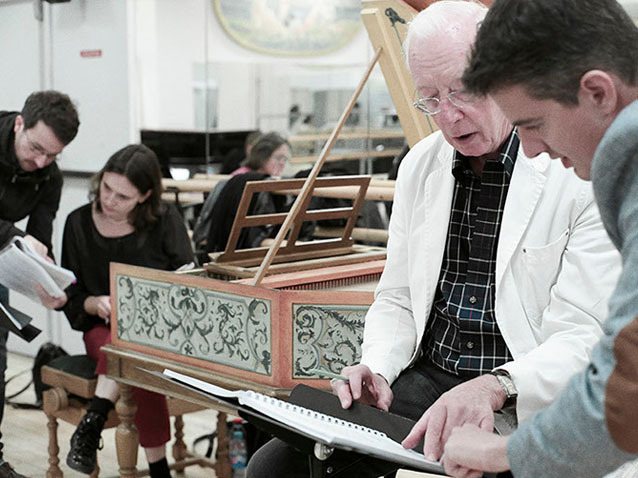 © Patrick Messina
Description
New production
Theodora is Handel's penultimate work and the only one of his oratorios to be based on a Christian theme. Written with eye to posterity, it is also a sublime plea for tolerance. In 1749, a 64 year-old Handel had long abandoned the opera seria in favour of the oratorio. Nonetheless, Theodora displays an intensity worthy of his greatest tragedies. It exalts the martyrdom of a chaste Christian girl persecuted by the Romans at the beginning of the 4th century AD. Even the love of a young centurion convert, Didymus, fails to save her. Throughout the work, Theodora loves, suffers and dies with devastating sincerity. Handel himself said this was his favourite oratorio. It contains some of his finest pages—Theodora's air "With Darkness Deep", the air sung by Irene and the final duo in Act III, for instance. The score is superb, constantly attentive to the psychological aura of the characters. Handel makes use of orchestral colour and musical nuance to exalt virtue and faith.  The chorus, in passages of overpowering emotional depth, describe the violence of the Romans in contrast to the compassion of the Christians.

The production brings together British director Stephen Langridge and the conductor William Christie, a connoisseur of the Handel repertoire (his début performance as a conductor at Glyndebourne was Peter Sellars' production of Theodora). This tragedy of tolerance will be performed by a remarkable cast who have already cut their teeth on this repertoire— the young Katherine Watson will play the title role, Stéphanie d'Oustrac the role of the faithful Irene, while Philippe Jaroussky is the Roman convert who tries to save Theodora, in vain.
 
More information is available on the opera house's official website.
Schedule
October 10, 2015 19:30:00
October 13, 2015 19:30:00
October 16, 2015 19:30:00
October 18, 2015 17:00:00
October 20, 2015 19:30:00
Work's characters list
Director
Conductor
Theodora
Didymus
Septimius
Valens
Irene