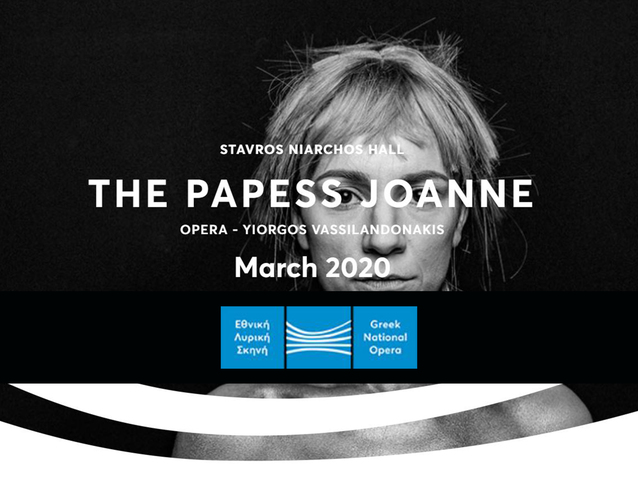 © DR
General Information
Production title:

The Papess Joanne - Greek National Opera (2020)

Creation date:

08/03/2020

Work - Composer:

The Papess Joanne

-

Yiorgos Vassilandonakis

Opera house:Greek National Opera
Description
World premiere.
Commissioned by the Greek National Opera for its 80th anniversary, based on Emmanouel Rhoides' novel of the same title.
More information is available on the official website of the opera house.
Following the measures adopted by the government as part of the fight against the spread of the COVID-19 coronavirus, the opera house had to cancel performances.
Schedule
March 08, 2020 18:30:00
March 15, 2020 18:30:00
March 22, 2020 18:30:00
Casting
Margarita Syngeniotou
Angeliki Tamvakopoulou
Kalliopi Tzanidaki
Nikos Katsigiannis
Petros Salatas
Dionisios Melogiannidis
Giorgos Matheadakis
Petros Salatas
Dionisios Melogiannidis
Giorgos Matheadakis
Work's characters list
Director
Conductor
Papess Joanne
Yutha
Archangel
Abbess
Santa Liova
10 years old Joanne
10 years old Joanne
Preacher
Frumentius
Floros
Corvinus
Nikitas
Theonas
Athanasius
Meletius
Nikitas bis
Panfutius
Cubicularius I
Cubicularius II
Cubicularius III
Cubicularius IV