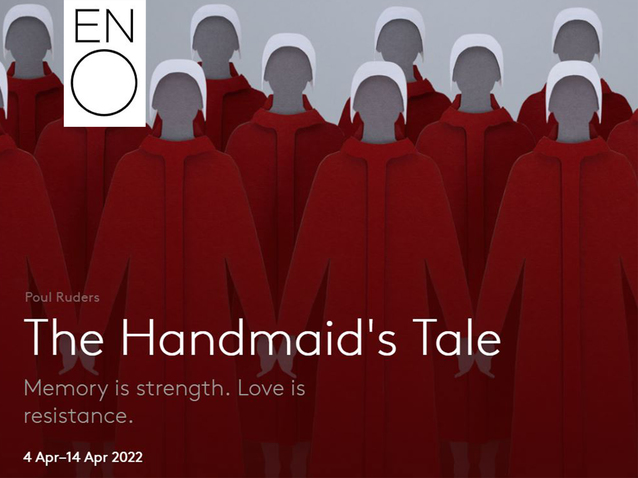 © DR
General Information
Production title:

The Handmaid's Tale - English National Opera (2022)

Creation date:

04/04/2022

Work - Composer:

The Handmaid's Tale

-

Poul Ruders

Opera house:English National Opera.
Description
Based on Margaret Atwood's seminal novel, Poul Ruders's The Handmaid's Tale plunges us into the Republic of Gilead, where women have been entirely stripped of their rights and freedoms.
The opera tells the story of a Handmaid given the name Offred, one of the fertile women forced to reproduce with Commanders of the Republic. This thought-provoking work magnifies the issues of state control and the fragility of freedom, as Offred wrestles with the daily terror of her reality.
More information is available on the official website of the opera house.
Schedule
April 04, 2022 19:30:00
April 06, 2022 19:30:00
April 08, 2022 19:30:00
April 10, 2022 15:00:00
April 12, 2022 19:30:00
April 14, 2022 19:30:00
Work's characters list
Director
Conductor
Offred
Luke
Aunt Lydia
Moira
Janine/Ofwarren
Serena Joy
Rita
Ofglen
Offred's mother
Nick
Offred's Commander
The Doctor