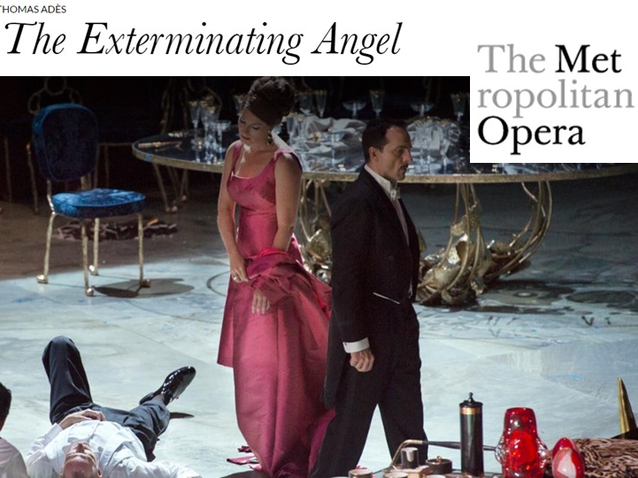 © MET
General Information
Production title:

The Exterminating Angel - The Metropolitan Opera (2017)

Creation date:

28/07/2016

Work - Composer:

The Exterminating Angel

-

Thomas Adès

Opera house:The Metropolitan Opera.
Description
New production, coproduction with the Royal Opera House, Covent Garden, the Salzburg's Festival, and the Den Kongelige Opera, Copenhague. The world premiere was in 2016, july 28th in Salzburg et the Royal Opera House has produced it in 2017, april-may.
More information is available on the official website of the opera house.
Schedule
October 26, 2017 20:00:00
October 30, 2017 19:30:00
November 03, 2017 20:00:00
November 07, 2017 19:30:00
November 10, 2017 20:00:00
November 14, 2017 19:30:00
November 18, 2017 13:00:00
November 21, 2017 19:30:00
Work's characters list
Director
Conductor
Lucia de Nobile
Leticia Meynar
Leonora Palma
Silvia de Avila
Blanca Delgado
Beatriz
Edmundo de Nobile
Comte Raul Yebenes
Colonel Álvaro Gómez
Francisco de Ávila
Eduardo
Señor Russell
Alberto Roc
Doctor Carlos Conde
Julio