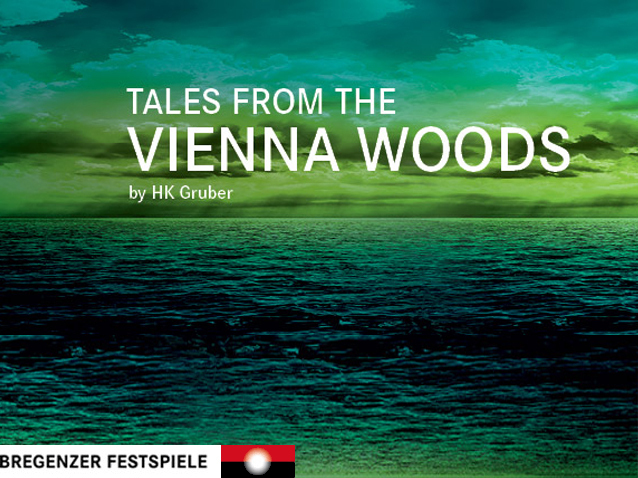 © Bregenzer Festspiele
General Information
Production title:

Tales from the Vienna Woods - Bregenzer Festspiele (2014)

Creation date:

27/07/2014

Work - Composer:

Tales from the Vienna Woods

-

Heinz Karl Gruber

Opera house:Bregenzer Festspiele
Description
World premiere
Tales from the Vienna Woods is the title of a charming waltz by Johann Strauss (the Younger). The title was borrowed by the Austro- Hungarian writer Ödön von Horváth for what became his best known and often filmed play which was premiered at the Deutsches Theater, Berlin, in 1931. A bitter satire about the mendacity and brutality of the petite-bourgeoisie, ironically named after the forested highlands near the Austrian capital that are so idealised in the waltz. In the play, Viennese Gemütlichkeit becomes a hollow phrase; the tragic, brutal story of the sweet girl Marianne and the deeply conventional butcher Oskar reflects the hardships and anxieties of the late 1920s during the global economic crisis.
Can the play be turned into an opera? Hörváth himself thought a suitable composer would be Kurt Weill, who had collaborated with Bertolt Brecht on the great success The Threepenny Opera. But the project did not get off the ground. Today there is probably no better candidate than HK (Heinz Karl) Gruber for the job of giving the play musical form. The Vienna-born composer, conductor, singer and actor, who celebrates his 70th birthday this year, has mixed very disparate musical styles before – Viennese music, cabaret and Sprechgesang – in his "pandemonium for orchestra" Franckenstein!! which has been acclaimed around the world and was performed at the Bregenz Festival in 2012. Now he has crafted Tales from the Vienna Woods into a piece of music theatre. The result is being staged at Bregenz in 2014. The idea actually came from the stage director and librettist Michael Sturminger, who will also direct the production.
More information is available on the festival's official website.
Schedule
July 27, 2014 11:00:00
August 03, 2014 11:00:00
Casting
David Pittman-Jennings
Robert Maszl
Susanne Grossteiner
Work's characters list
Director
Conductor
Marianne
Alfred
Oskar
Valerie
Zauberkönig
Mother
Grandmother
Erich
Rittmeister / Father Confessor
Mister
Der Hierlinger Ferdinand
Havlitschek
Emma