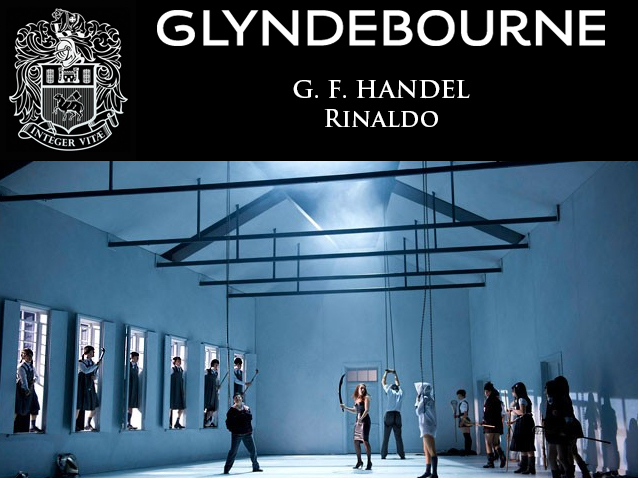 © Glyndebourne Festival
Description
A revival of the 2011 Festival production
In 1711, the 26-year-old Handel was commissioned to write an Italian opera for the Queen's Theatre in the Haymarket. Rinaldo, the first Italian-language opera written especially for the London stage, is arguably as English as it is Italian. Designed to fuse the virtuosity of Italian singing with the extravagance of the 17th-century English masque, Rinaldo displays the infl uence of British semi-operas like Purcell's King Arthur and plays including Dryden's Amphitryon.
'Glyndebourne's reputation as a Handel house receives a boost with Robert Carsen's new production of Rinaldo,' wrote The Sunday Telegraph of this show's premiere in 2011. Handel's tale of love, war and redemption during the First Crusade, loosely based on Torquato Tasso's popular 16th-century epic poem Gerusalemme liberata, here becomes a madcap fantasy set in a British boarding school, a backdrop that deftly underlines the piece's inherent Englishness.
The cast for this revival boasts four leading countertenors. Iestyn Davies, last seen at Glyndebourne in L'incoronazione di Poppea in 2008, returns in the title role. Tim Mead, Eustazio in 2011, now portrays Goff redo. American countertenor Anthony Roth Costanzo debuts as Eustazio, with James Laing as the Magician.
Canadian soprano Karina Gauvin, debuting as Armida, and Canadian baritone Joshua Hopkins, the Count in Le nozze di Figaro in Festival 2013, returning as Argante, complete a cast of accomplished Baroque virtuosi. Ottavio Dantone returns to conduct the Orchestra of the Age of Enlightenment 'in a thrillingly zingy reading of the score,' according to The Times (2011).
More information is available on the operahouse's official website.
Schedule
August 09, 2014 17:00:00
August 12, 2014 17:00:00
August 14, 2014 17:00:00
August 17, 2014 15:45:00
August 19, 2014 17:00:00
August 22, 2014 17:00:00
August 24, 2014 15:45:00
Work's characters list
Director
Conductor
Rinaldo
Eustazio
Armida
Almirena
Goffredo
Argante
Mago