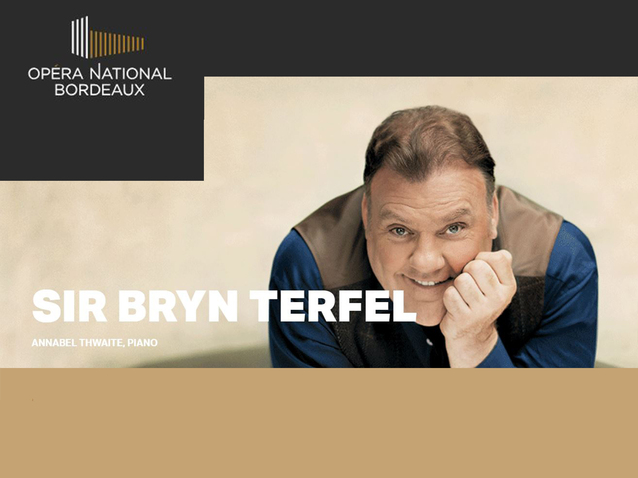 © DR
General Information
Production title:

Récital Bryn Terfel - Opéra National de Bordeaux (2019)

Creation date:

20/03/2019

Work - Composer:

Récital

-

Compositeurs divers

Opera house:Opéra National de Bordeaux.
Description
Piano : Annabel Thwaite.
Program : 
John Ireland
Sea Fever
Vagabond
The bells of San Marie
Franz Schubert                      
Liebesbtoschaft D.957
Das Fischermädchen D.957 No 10
Litanei auf das Fest Aller Seelen D.343
Auf dem wasser zu singen Op.72
Jacques Ibert
Chansons de Don Quichotte
Chanson du départ de Don Quichotte
Chanson à Dulcinée
Chanson du Duc
Chanson de la mort de Don Quichotte
Traditionnel, arr. Chris Hazell
Songs from The Celtic Isles
Ye banks and braes
Little Welsh Home
Sul y Blodau
Passing By
Songs about the Animal Kingdom
Franco Leoni
Tally-Ho!
Manna Zucca
The Big Brown Bear
John Charles Thomas
The Green Eyed Dragon
Arrigo Boito
"Son lo spirito che nega"  -  Mefistofele
Kurt Weill
"Moritat von Mackie Messer"  -  Die Dreigroschenoper
Charles Gounod
"Le Veau d'or"  -  Faust
More information is available on the official website of the opera house.
Schedule
March 20, 2019 20:00:00
Work's characters list
Interprète