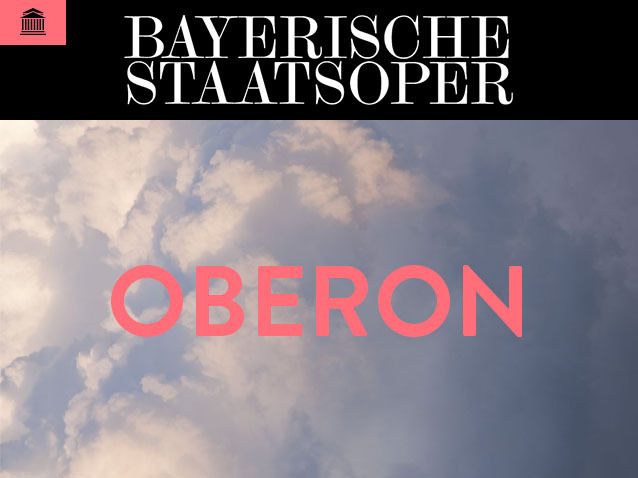 General Information
Production title:

Oberon - Bayerische Staatsoper (2017)

Creation date:

21/07/2017

Work - Composer:

Oberon

-

Carl Maria von Weber
Opera house:

Prinzregententheater
Description
New production
The plot of Carl Maria von Weber's romantic elfin opera, first performed at London's Covent Garden in 1826, is quite startling. When Oberon, King of the Fairies quarrels with his queen Titania, it is the humans, of all creatures, who are called upon to solve the problem. Titania will only consider reconciliation, on the condition that a human couple affirm their love within a life or death scenario. Oberon's servant Puck already has somebody in mind – the crusader Hüon of Bordeaux, who is in love with Rezia, daughter of the Calif.
Their love, a European-Arabian union, is however threatened by perils of a cultural nature. Rezia twice faces being forced into marriage, as well as being kidnapped by pirates and sold in a slave market. Even courageous Hüon cannot confront these dangers in his own strength. In their direst need, Oberon's magic horn comes to the two lovers' aid, even tearing them from the clutches of death. Titania seems unbothered by this intervention. She appears at the end of the opera happily reconciled at the side of her king Oberon – two dei ex machina who demonstrate that the world of fantasy is tightly intertwined with the real world - regardless of any cultural barriers.
More information is available on the opera house's official website.
Schedule
July 21, 2017 19:00:00
July 24, 2017 19:00:00
July 27, 2017 19:00:00
July 30, 2017 18:00:00
Work's characters list
Director
Conductor
Oberon
Rezia
Fatima
Huon de Bordeaux
Sherasmin