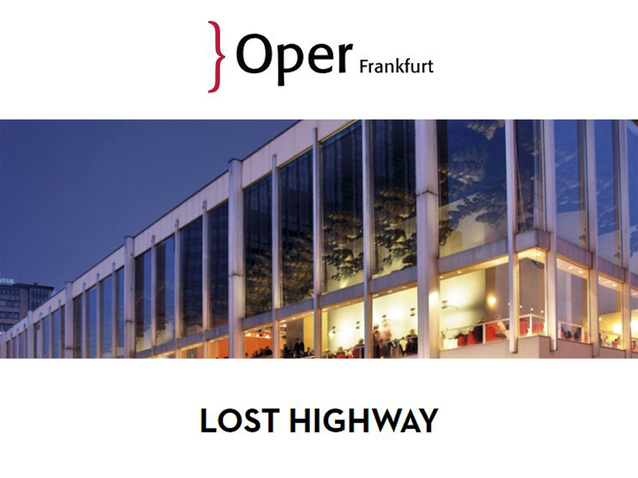 © Copyright all right reserved
General Information
Production title :

Lost Highway - Oper Frankfurt (2018)

Creation date :

12/09/2018

Work - Composer :

Lost Highway

-

Olga Neuwirth

Opera house :Oper Frankfurt.
Description
Based on the movie Lost Highway (1997) by David Lynch and Barry Gifford.
More information is available on the official website of the opera house.
Schedule
September 12, 2018 19:30:00
September 16, 2018 19:30:00
September 17, 2018 19:30:00
September 19, 2018 19:30:00
September 21, 2018 19:30:00
September 23, 2018 19:30:00
Casting
Jeff Burrell
David Moss
David Moss
Juanita Lascarro
Jörg Schäfer
Nicholas Bruder
Nicholas Bruder
Jim Phetterplace Jr
Jim Phetterplace Jr
Jim Phetterplace Jr
Jeff Hallman
Jeff Hallman
Work's characters list
Director
Conductor
Pete
Fred
Renee
Alice
Mr. Eddy
Dick Laurent
Mystery Man
Andy
Warder
Arnie
Pete's Mother
Pete's Father
Ed
Detective Hank
Al
Detective Lou
Prison Director
Doctor
The Man