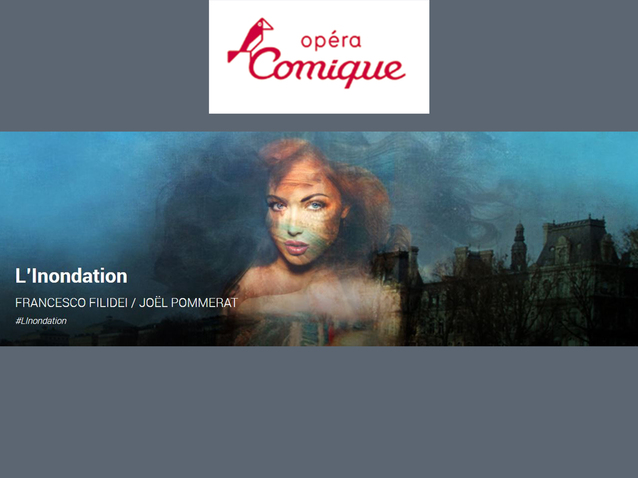 © DR
General Information
Production title:

L'Inondation - Opéra Comique (2019)

Creation date:

27/09/2019

Work - Composer:

L'Inondation

-

Francesco Filidei

Opera house:Opéra-Comique.
Description
New production.
Commissioned by the Opéra Comique, in co-production with Angers Nantes Opéra and the Opéra de Rennes.
Opera in two acts, inspired by the eponymous text by Evgueni Zamiatine.
Because they can not have children, two spouses end up adopting an orphan. The teenager has an unexpected place in their homes and in their hearts.
In this suburb of St. Petersburg, the word between the couple has become rarefied and silences become heavy. The world the woman has built to overcome the sadness of her emotional life will be disrupted while at the end of winter the waters of the river rise.
More information is available on the official website of the opera house.
Schedule
September 27, 2019 20:00:00
September 29, 2019 15:00:00
October 01, 2019 20:00:00
October 03, 2019 20:00:00
Work's characters list
Director
Conductor
La Femme
L'Homme
La Jeune Fille
Le Voisin
La Voisine
Le Narrateur
Le Policier
Le Médecin