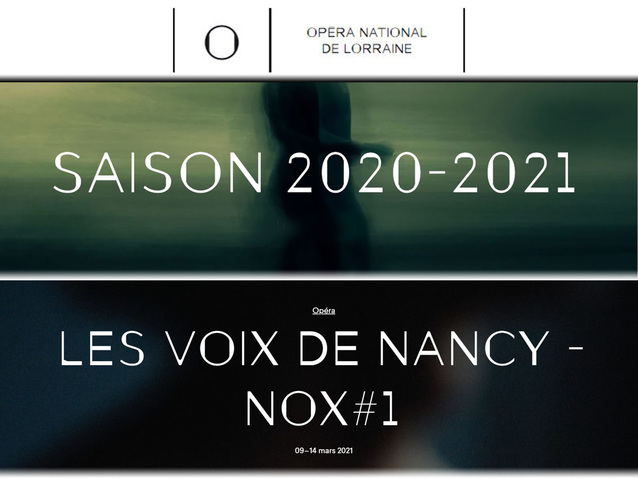 © Copyright all right reserved
General Information
Production title :

Les Voix de Nancy - NOX#1 - Opéra National de Lorraine (2021)

Creation date :

09/03/2021

Work - Composer :

Les Voix de Nancy

-

Paul Brody

Opera house :Opéra National de Lorraine.
Description
New production,
World Premiere.
"From the 2020-2021 season, the Opéra national de Lorraine is setting up with the NOX (Nancy Opera Xperience) a lyrical creation laboratory. Its goal is to rethink the way an opera is produced by inviting artists to work in the long term, in an intimate dialogue, developing a show in close connection with the territory. The result of the NOX is an experience that we want to share with the public. For its first edition, we started with a question direct that we asked the inhabitants of Nancy: "Are you in love?" "
Texts by Chloé Kobuta, based on interviews with Nancéien (ne) s conducted in collaboration with Alexandra Levinger.
More information is available on the official website of the opera house.
Due to the health situation, the stage performances have been canceled, but the digital format will be launched on March 25 and free.
Schedule
March 09, 2021 20:00:00
March 10, 2021 20:00:00
March 11, 2021 20:00:00
March 12, 2021 20:00:00
March 14, 2021 15:00:00
Work's characters list
Director
Director
Director
Conductor
Interprète 1
Interprète 2
Interprète 3
Interprète 4